The beginning of Oyster City Brewing Company
The story of Oyster City Brewing Company starts with Rex, Cassie, and Susan, who own the Owl Café in Apalachicola. They opened up a bar called The Tap Room, and people kept coming in and asking," what's your local beer?" At that time there wasn't one. After hearing that question many times, the trio began to ponder what it would really take to open a brewery in the Oyster City. The first step was a home for this new business, so they began acquiring the building across from the Owl Café. The answer was not far from the café.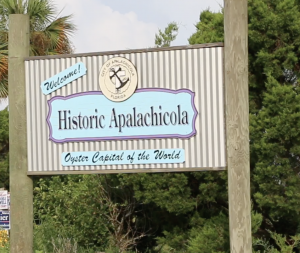 In a previous life, the building had been a bar called The Oasis. "It was an old Florida bar where the all the shrimpers and fishermen came to, and the city had outgrown it," says Oyster City Brewing's Director of Operations Clayton Mathis. "The building was closed up and was available." Since the building was built as a bar and not a brewery, a few adjustments had to be made, but the group had found a home for Apalachicola's first local brewery.
After acquiring the building, the brewery needed someone to steer the brewing. The group hired brewer Jamie Ray as a consultant in 2013. Ray has brewed beer all over the United States, and he would help Oyster City with their initial launch and then return to work for the brewery in 2019. The ownership group worked with Ray and started brewing test batches of beer while they were converting the Oasis building into the home of Oyster City Brewing Company.
It took over eight months to get the building ready for its new life as Apalachicola's local brewery. Once the building was ready, the team installed fermenters and their brewhouse and set to work.  The first official beer of Oyster City Brewing was Hooter Brown Ale. Clayton remembers that, "Jamie came in and worked on the recipe for a brown ale and used Tupelo honey – it was so abundant back in 2013-2014." After some tweaks, Hooter Brown Ale was born. "That is what Oyster City is, though. It was built on Hooter Brown."
Grand Opening
Oyster City Brewing Company opened in June of 2014, selling beer on tap and sending beer into distribution. As a brewery favorite and Oyster City's first beer, Hooter Brown was the first beer sent out in both cans and kegs, followed by Mill Pond Dirty Blonde, then shortly afterward Apalach IPA.
In 2015, after establishing himself as a brewer and working through the jobs in the brewery, Clayton became the brewery's Director of Operations and helped to shape Oyster City's core lineup of beers.
Oyster City Brewing's core beer lineup now consists of: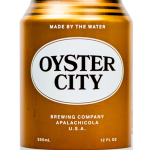 Hooter Brown Ale: A robust ale made with local honey harvested upriver at Owl Creek. Full-bodied and easy-drinking thanks to rich honey and chocolate malts.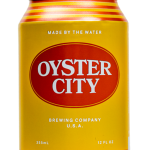 Mangrove Pale Ale with Mango: Classic pale ale with malty body, hopped with Centennial and Cascade hops. Fermented with mangoes reminiscent of heavenly days spent in tropical climes.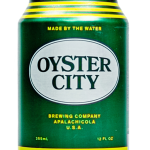 Apalach IPA: An IPA with caramel malt body with appearances by centennial, citra, chinook hops.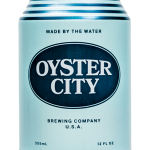 Mill Pond Dirty Blonde: An "almost easy ale" with a well-balanced, crafty malt structure and hopped with Ahtanum hops. Pairs well with oysters, sunny beaches, and salt water.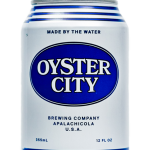 Tate's Helles German-style Lager: "Hell-Us" for English speakers means "a light one." Pacifica hops from New Zealand add a hint of orange marmalade flavor. Named after Tate's Hell State Forest.
The brewery steadily grew larger and keeping up with the volume of beer that their fans demanded grew to be a challenge, so the team enlisted the help of Lakeland, Florida-based Brew Hub to help make some of Oyster City's core beer. This would allow the brewers to focus on making seasonal and limited beers both for the taproom and limited distribution. "We have been able to establish a schedule for seasonal beers and we have released Red Right Return Amber Ale and First Light of Day Golden Ale that will see distribution in 2020. This year was the first year of seasonals, and we were able to establish a good schedule for them," Clayton insists. "We released a lot more seasonal beer this year. We also have a Raspberry Hibiscus Berliner Weisse, our Red Snapper IPA, which is an IPA with beets, and we're getting set week to brew Oktoberfest beers. We want to keep our brewers doing something fun and exciting."
Working Oyster City into the beer
From the beginning, the ownership group knew that the brewery's roots within its home city ran deep. With its home in a bar loved by boat captains, its owners rooted in the community, and its beers ready to help tell the story of Apalachicola, the brewery's name came from the area's fame for Gulf oysters. Originally, the owners were going to name the brewery after its home city but kept pondering. "So, instead of naming the brewery Apalachicola Brewing Company, they chose to call it Oyster City Brewing," recalls Clayton. "At that time, the oyster population was higher, but Apalachicola provided 90% of Florida's oysters and 10% of the U.S.'s oysters."
As the city's first brewery, Oyster City Brewing Company wanted to give a glimpse of the life, people, and culture of Apalachicola to anyone who drank their beer. The did this by incorporating several local elements into their beer names, can designs, and branding.
"Made By The Water"
 On every package of Oyster City Brewing Company's beer are the words "Made By The Water."
The brewery's website describes the unique slice of life that happens in where the Apalachicola River meets the Gulf of Mexico and forms Apalachicola Bay. "The salt and the fresh meet and the water teems with life," the website reads. "Our life. Our body. Our Language. We are made by this particular piece of water." Clayton says that it is a point of pride that the brewery keeps with that theme of showcasing the city and people of Apalachicola in each beer they make.
This pride resonates in every aspect of Oyster City Brewing Company.
Each tap handle from Oyster City is actually welded in Apalachicola and is an oyster rake. "This is the same kind of tool used with oysters," Clayton says. "They are used to cull the oyster beds and then the two parts are the legal size of an oyster."
The colors of each Oyster City can are unique as well – they are modeled after buoys in a two-story mural of buoys on the waterway of Apalachicola. When the brewery says that their beer is "Made By the Water," it is true in every sense of the phrase.
Challenges now and in the future
When asked about what challenges Oyster City Brewing, Clayton does not hesitate: "Our greatest challenge has been the size of the brewery." Oyster City Brewing is an expanding brewery and they are working as hard as they can to keep beer lovers supplied with their beer. Combine the size of the brewery with its floorplan that was originally set up to house a different type of business, and then invite people to visit.  Clayton elaborates, "The brewery has an open floor plan, too. When the tasting room and patio is open, there are people walking around while the staff is making beer. We have outgrown this brewery, and that is why we chose to go with Brew Hub." He also jests about another big challenge: not drinking all of the beer.
Why not simply expand their existing brewery then? Clayton explains, "There is always a thought of expansion," Clayton admits. "We would love to build a big brewery, but the cost would be a couple million dollars. We always want to make sure we have the demand for the beer and don't want to put ourselves in the position of trying to expand too quickly and then lose momentum." Ultimately, Oyster City's expansion will depend on how much the brewery can grow and stay true to its local roots and mission statement. "We love our beer, we love Apalachicola, and we want to do everything we can to protect the brand. That means strategically finding the right time to build that brewery."
The pearl-bright future of Oyster City Brewing
The future is bright for Oyster City Brewing Company. "The next big achievement is to get our beer in more people's hands," Clayton says. "That is what we're trying to do with Team Cone." Expanding distribution and moving their beer outward is one step toward their greater goal.  "We believe in our product, we believe that we have a superior product in our great beer, and I want as many people to drink our beer as possible. That is the next move for the brand as expand and we start to talk about possibly building a bigger facility and what our future is."
No matter how much beer the brewery makes, one thing is for certain, Clayton says. The brewery's great beer is a product of the team that powers the brewery.
"I believe in the product we have and have a great team," Clayton emphasizes. "We have a great staff of bartenders, we have a great sales director, we have great ownership, and great brewers." Making beer is truly a team effort from grain to glass. "These guys keep me coming to work, and it makes it easy to come to work. But I believe in the product, and I believe in the brand."
Even though the brewery is building momentum, Clayton says he still has one big worry. "At night, from March to October, I worry about how we're going to get enough beer to the people who want to drink it." It's a good problem, but a problem, nonetheless. "Being on the coast, from springtime, summertime until Labor Day, it keeps us up wondering how we're going to get as much beer as the people want."
"We're constantly trying to improve every day." 
 Want to see more? Click over to our Beer Finder to search for Oyster City Brewing Company's beer near you or speak to your Team Cone representative.
(Please read our Oyster City Brewing announcement to learn which counties we distribute Oyster City Brewing Company in.)