Team Cone, under the leadership of President and CEO Douglas P. Cone Jr., is celebrating a remarkable achievement in being named one of "Florida Trend's Best Companies to Work for in Florida" for the fifth consecutive year.
Celebrating a Milestone: Team Cone's Fifth Year as One of the Best Companies to Work for in Florida
At Team Cone we are proud to announce that we were acknowledged on the 2023 Best Companies to Work For in Florida list, as recognized by Florida Trend Magazine.
This recognition holds special significance for us as it was voted on by our valued team members themselves. It reflects our company's deep appreciation for our employees, who are regarded as the most crucial resource in our organization. This accomplishment reaffirms our dedication to a great work culture and highlights our commitment to fostering a workplace where employees thrive.
A Closer Look at the Best Companies to Work For in Florida Criteria
Florida Trend's Best Companies to Work for initiative is designed with the aim of pinpointing Sunshine State employers who excel in fostering environments that employees take pride in. The intention is to acknowledge and honor those organizations that have successfully cultivated cultures where employees feel a strong sense of belonging.
Every year, Florida Trend Magazine teams up with the Best Companies Group to conduct anonymous surveys among employees at eligible companies across the state. Employers provide detailed insights through a comprehensive questionnaire, while employees get the chance to share their honest feedback through company-wide surveys. After both segments of the assessment are finished, the data is analyzed to identify which organizations stand out as the very best. The much-anticipated list of these outstanding companies is then featured in the August edition of Florida Trend Magazine.
What Makes Team Cone a Top Workplace in Florida for Half a Decade?
Team Cone has consistently ranked as a top workplace in Florida for an impressive half-decade, and it's because at Team Cone, we care. We are committed to fostering an inclusive and supportive work culture where each team member feels valued. We prioritize professional growth, ensuring that our employees have the opportunity to thrive and advance in their careers.
Employee Excellence: Legends of Team Cone
While we are proud of our lineup of great products, people always come first at Team Cone. We take immense pride in our growing team of more than 330 dedicated individuals. And we're excited to offer a range of career opportunities as our company continues to expand. Our legacy as one of the best companies to work for in Florida is because of our employees. This acknowledgement allows us a special moment to shine a spotlight on them. We have a growing group of long-term employees that have developed with us, our "Legends." Team Cone Legends are the remarkable teammates who have been part of our journey for over two decades. We look forward to this group expanding as our company and employees grow together.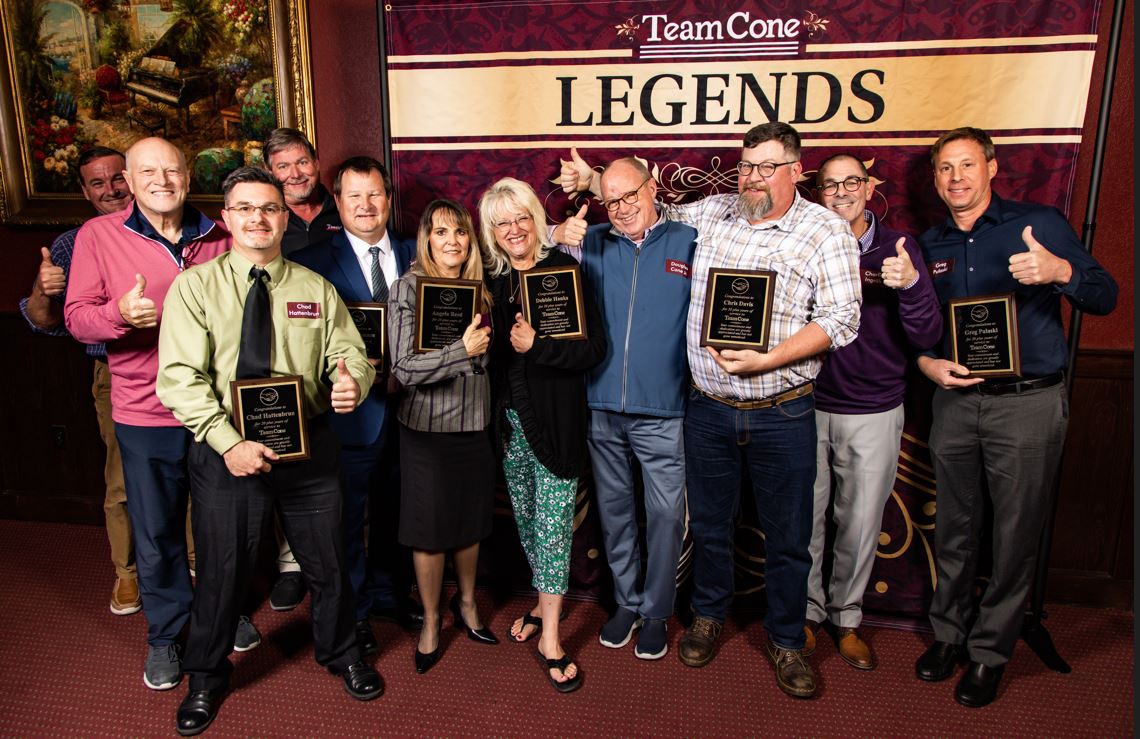 The Power of Community: The Team Cone Difference
We place a strong emphasis on fostering positive experiences for our employees by building partnerships and championing community initiatives. Our unwavering commitment to giving back is rooted in our core values, at Team Cone we care. Our core values are the that compass guides our actions and decisions.
Team Cone's dedication to giving back to our communities aligns with our core values, creating a workplace that not only excels in business but also makes a positive impact in the lives of those we serve. It's this unique blend of employee-centric practices and community engagement that sets Team Cone apart.
The Heart of Team Cone: Our Core Values in Action
We believe in caring for each other, our families, and the communities where we live and work. As a local and family-owned company, we're deeply devoted to these values, and they form the bedrock of our mission. We are committed to seeking the highest standards at every level and this means working to make a meaningful difference in the lives of others. We are especially dedicated to helping those facing challenges in the communities we serve. Team Cone proudly support organizations that focus on helping people during difficult times, empowering them to lead more productive and fulfilling lives. Our core values are what consistently places Cone as a leader among workplaces in the state.
Team Cone's Ongoing Commitment to Workplace Excellence
In celebrating the remarkable milestone of being named one of the Best Companies to Work for in Florida for five consecutive years, Team Cone embraces the future with unwavering commitment to workplace excellence. This achievement is not just a culmination of our efforts, but a launching point for what lies ahead.
As we look to the future, we pledge to continue prioritizing our dedicated team of employees. We will continue developing a positive work culture and maintaining the values that have brought us to this point. Our ongoing commitment to our core values ensures that the best years for Team Cone are yet to come. We promise to continue setting the bar high for what it means to be a truly exceptional place to work. Thank you to our teammates, partners, and communities for being an integral part of our journey.