"Every day is audit day" is more than a mantra at Team Cone, it is a way of life.  Team Cone does not see an audit as a negative event, but a chance to positively illustrate excellence to suppliers, co-workers, retailers, and retail consumers.  Such a bold philosophy can't just be said, it must be lived and tested. Living by this mantra has paid dividends for Team Cone – the company consistently scores in the upper tiers of several of the industry's toughest audits.  Because Team Cone works with World Class suppliers, they insist on the type of World Class service that Team Cone provides.
Some of the audits that Team Cone has passed recently and continues to be ready for include: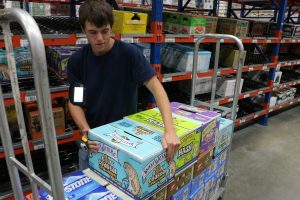 SweetWater Brewing Quality Assurance Audit: SweetWater Brewing of Atlanta gives 24 hours' notice that they will be in Team Cone's market to visit mostly draft accounts.  This one-day audit encompasses about twenty accounts looking for out-of-date beer and monitoring draft line cleanliness.  SweetWater's auditors look for how regularly draft lines are cleaned and de-stoned as well as checking bottle dates to ensure proper stock rotation is taking place.  
Results
Team Cone has passed each and every SweetWater Brewing Quality Assurance Audit with a 100% score, including a recent surprise audit in August 2017.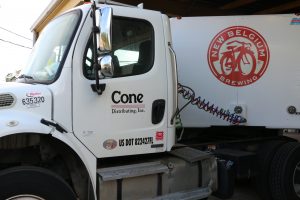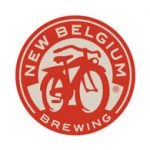 New Belgium Brewing Quality Assurance Audit:  New Belgium Brewing's audit is known to be one of the toughest audits distributors face, and also one of the longer ones.  New Belgium Brewing sends auditors into the market unescorted for thirty days.
These auditors will audit both on-premise (bars & restaurants) and off-premise (package, grocery, & convenience stores) accounts the distributor sells beer to, and they will score the distributor based on findings.  New Belgium's auditors are known for being thorough, looking through singles racks, bottle displays, and backstock to find out-of-date bottles.  New Belgium will stop a delivery truck to check the temperature of kegs of beer being transported, as well as inspecting draft lines for cleanliness and regular care.
New Belgium makes it known that most distributors fail the first audit and are given a chance to correct any issues.
Results
Team Cone has passed every New Belgium Brewing Quality Audit since the first audit in 2015, including a perfect 100% in the first year.  Team Cone has received a 100% score since the first audit, posting only one less-than-perfect audit score of 96%.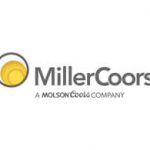 MillerCoors Brewing Quality Assurance Audit:  MillerCoors Brewing Company's audit is a challenging and multi-faceted audit. This supplier examines almost every aspect of Cone Distributing's business.  The audit begins with a market inspection.  Two MillerCoors auditors visit ten off premise accounts and five on premise accounts chosen at random.  The auditors are looking for beer that is out of code and/or out of rotation, as well as unclean tap faucets at draft accounts.
The next phase of a MillerCoors audit involves inspecting our warehouse to ensure that we are cleaning, stacking, and refrigerating properly.  The auditors will walk the warehouse and will then search through company records to verify that sales, delivery, merchandising, and repack  personnel are current on their code date training.
Results
Team Cone has passed every MillerCoors audit and has recently scored in the top percentage of MillerCoors distributors, despite MillerCoors beginning a more challenging audit program in 2017.  Where 70% is passing, Team Cone earned a 95.45% Quality Index Score and a 91% on Quality Systems.  Out of 1,022 cases of beer examined, less than 3 of those cases were out of date.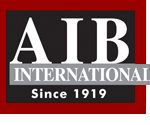 American Institute of Baking (AIB) Annual Audit:  The American Institute of Baking Audit is an audit that we undergo because we sell Red Bull and since a large customer of ours classifies Red Bull as food, we must undergo an outside inspection to grade us as a food producer.  Since we are not a food producer, the inspector narrows his scope to the parts of theinspection that do apply.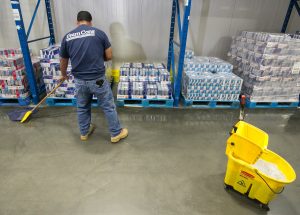 This audit is known to be the toughest audit in the industry when it comes to cleanliness and procedures.  Every chemical used for cleaning has to be on an approved list and verified by the auditor. The Warehouse and Maintenance Teams have made books of procedures and the Corporate Safety Manager has documented our procedures for warehouse safety. The AIB inspector goes through our warehouse with a fine-tooth comb looking for anything that could interfere with food safety.  Any spider web or insect material in the building is an automatic failure. The auditor is so specific that he examines our mopping procedures in case of a spill (it's left to right, just so you know).
Results
Because of the efforts of everyone in the warehouse, especially the Director of Maintenance and the Maintenance Team, Team Cone doesn't just pass this rigorous audit, but has consistently scored in the top tier of all inspections.  A passing score is an 800 and the top score is 950.  Team Cone has progressively improved to be just ten points shy of a perfect score in 2017.
While an auditor does not show up every day of the year, Team Cone rests in the confidence that if they did, the Team would be prepared.  After all, the Team cannot scramble to get ready for each and every audit, rushing around in the days prior to a visit.  As the saying goes, "if it is not written down, then it did not happen" and details matter.  While an audit may not come each day, they have to be kept in mind by Team members paying a keen eye to small details – rotating beers and checking dates during every sales call, making sure that each beer is accounted for while building displays or merchadising, making every delivery with accuracy, and accounting for all warehouse procedures.  That is doing The Right Thing, The Right Way, All the Time — and it shows.