Clearing up the haze on IPAs
When 2018 was a young New Year, many national breweries decided to add "hazy IPAs" or "New England IPAs" to their portfolio of beers. With these changes, some beer enthusiasts were left asking questions like "where did this sudden craze for the haze come from?" "What is different about these beers that makes them hazy?" And finally, "Is this a good haze or a bad haze?"  One thing is for certain: the style's sudden and meteoric rise in popularity means that these new beers are deifnitely worth a try.
What Makes these IPAs 'New England Style'?
The first item that makes these beers fit the style profile is their origin.  While they may use different terminology, "Hazy IPA," "New England IPA," "Juicy IPA," "Vermont IPA," and "Double Dry-Hopped IPA" are all the same style of beer: India Pale Ale (IPA), thus the hops are on display in this beer. The beer style does indeed trace its roots back to New England and beers that became well known in beer circles for their hop flavor and turbid appearance.  As brewers around the United States began to experiment with turbid hoppy beers, drinkers grew more excited about these beers and that excitement crested in 2018 with the wide release of several New England IPAs.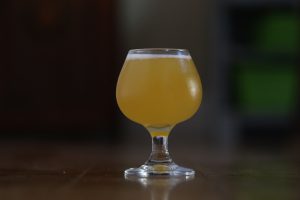 Another item that helps create this unique style is an adjustment to the beer's water profile that helps soften bitterness and create a juicy texture in the finished beer.  This treatment is sometimes combined with the use of yeast strains that allow fruitier aromas in finished beer.  This texture and aroma is part of what helped give hazy IPAs the nickname of "juicy IPAs."  Combine the yeast and the water with the use of hops with heavy fruit aspects dominating the flavor profile, and these emerging beers have much in common with citrus juices.
The next item that classifies these beers is their appearance.  There are a few different techniques in play that would make a beer hazy or 'New England style.'  Usually, yeast, proteins, and matter that create the haze of a beer are filtered out in the brewing process and finished beer becomes clear.  These hazing components are usually removed from beer during filtration or with clarifying agents. At that point, the beer morphs into its more transparent self.  Brewers in the northeastern United States started a brewing trend when they served their IPAs without filtration and also using grains like wheat and oats in IPAs that exacerbate beer haze, and this polarizing trend was born.  Notice that many of the beers termed "New England style" also use the term "unfiltered."
"Double" and "Triple Dry-Hopped" beers
Another aspect that makes a beer "New England style" can be the number of times the beer is dry-hopped.  Beer is brewed with hops being added at three points in the brewing process: during the boil, just after the boil, and during dry-hopping.  Hops added during the boil add bitterness to the beer, hops added after and at the end of the boil add aroma, and dry-hop additions help to augment and intensify the beer's aroma.  In the case of the New England IPA, much of the hop character comes from late-addition hops and dry-hopping.  This technique adds hop character and aroma without adding intense bitterness like hops added to the boil.
New England IPAs have more of the fruit aspect of hops and not nearly as much bitterness as a traditional IPA.  Much of this comes from being dry-hopped.  Dry-hopping a beer is when the brewer takes the almost finished beer and steeps more hops into the liquid.  Many New England style beers undergo several dry-hop additions.  Since a good deal of hop aroma is lost when the brewery boils the wort, this process is one way that a brewer can add back hop aroma.  The downside of dry-hopping is that the hop aroma will fade in time, so the more time that elapses between canning/ bottling and drinking, the less hop aroma may emanate from the glass.
The New England IPA also features a softening of hop bitterness that does not happen in an IPA.  Part of the allure of a New England IPA is in its fruit-forward character over the normally harsh bitterness of a traditional IPA.  This quality has attracted many drinkers to a can of IPA with the caveat, "I'm not an IPA drinker, but I like this beer."
Here are a few examples of new hazy IPAs: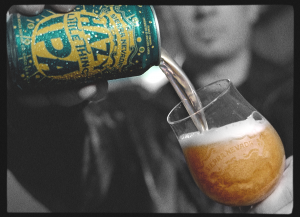 Sierra Nevada Hazy Little Thing (6.7% ABV): Sierra Nevada Brewing Company's take on the style of a hazy IPA is unfiltered and comes "right from the tank into the can."  The beer was previously available only at the brewery and now has since moved nationwide.  The beer leans toward the citrusy hops present but still has sweetness from the malt.  Like all IPAs, Hazy Little Thing will pair well with a cheddar and add some citrus to some mild mango salsa.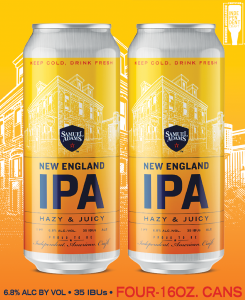 Samuel Adams New England IPA (6.8% ABV): Boston's original craft brewery is one of the first to take this new style of beer nationwide.  Samuel Adams New England IPA, like its cohorts, takes aim at the citrusy side of IPA.  As owner Jim Koch tastes through the IPA in the beer's promotional video, he talks up the beer's grapefruit, orange, and lemon character.  As Jim says, "In comparison to West Coast style IPAs which have prominent hop bitterness and a light, dry mouthfeel, New England IPA's are generally known for a juicy, luscious mouthfeel and opaque, hazy appearance – and are best enjoyed fresh."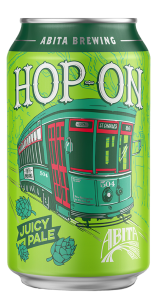 Abita Hop-On Hazy Pale Ale (6% ABV): This New England IPA by way of the Big Easy displays the style's unique haze with Cascade, Citra, and Ekuanot hops.  As the lightest of the hazy IPAs (at 6% ABV), this still has massive hop flavor.  After a brewery preview in mid-February, Hop On is now the feature of a nationwide launch.  Try pairing this hazy surprise with a seafood ceviche or a spicy chicken taco and let the good times roll.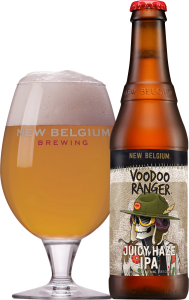 New Belgium Brewing Voodoo Ranger Juicy Haze IPA (7.5% ABV): New Belgium's take on the hazy style comes as an addition to the Voodoo Ranger IPA lineup.  The beer has aromas of grapefruit, lemon, orange, lime, and pineapple with flavor to match.  One primary difference in New Belgium Brewing's hazy IPA is fermentation with hefeweizen yeast, a yeast known for cloudy beers.  The highest ABV of any of the selections here, Juicy Haze IPA has a balance between malt sweetness and the sweeter side of citrus, with its yeast giving an almost wheaty or candy-like quality to this haze maker.
The best quality about this polarizing style is that each brewer who decides to make a New England IPA puts their particular spin on the beer.  Click over to our Beer Finder to find one of these New England IPAs that may be your next favorite beer.  Finally, for more information on the style, please refer to an article from Chicago Tribune writer Josh Noel on the subject of New England IPAs, or for the best reference bring a few of these beers home and try them with friends.