Thanksgiving is the perfect time of year to try some new beer and food pairings to elevate the big flavors of the meal and to make the day even more memorable.
At many tables across the United States, beer is a part of Thanksgiving traditions – everything from a companion during football games to a beverage that will get nursed throughout the evening.  This year, we are taking a few of our favorite beers and looking for flavorful beer pairings to bring to dinner.  Many of these beers are classics of the American craft beer movement and have tried and true beer pairings that can bring a new level of harmony to the dinner table.  The goal of any beer pairing is to make the combination of the beer and food taste better than the sum of its parts.  Here are a few pairing to try this Turkey Day, if only a few or possibly a new beer for every course of the meal.
The Appetizer Course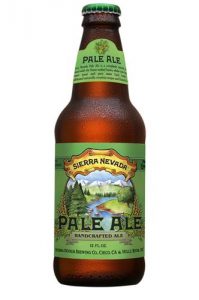 Cheese course with Sierra Nevada Brewing's Pale Ale (5.6% ABV): One of cheese's favorite beers, Sierra Nevada Pale Ale is a classic combination for sharp cheeses and beyond.  The beer's Cascade hops and healthy malt presence can team up to impress many cheeses on the first date.  Sharp cheddar and Pale Ale match well, but so does Pale Ale and a medium pepper jack.  Be careful not to get too hot on the cheese, as hoppy flavors can actually intensify capsaicin spice.  American cheese and Pale Ale will work as well.  Try to work your way around the cheese board with Pale Ale, and as long as the cheese does not get too nutty (like a gouda), too funky (like a bleu), or too spicy (like habanero jack), this classic American beer can meet and greet with flavor the way you do with visiting relatives this holiday season.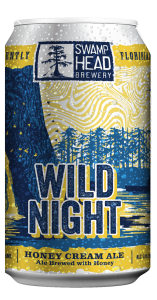 Salad course with Swamp Head Brewery's Wild Night Honey Cream Ale (5.0% ABV): One of the most versatile beers out there when it comes to food pairing, Gainesville's Swamp Head Brewery's Wild Night Honey Cream Ale is just the beer to help bring together the flavors in the salad course.  Whether you are serving an arugula salad with a light with some mozzarella cheese or  a romaine and radicchio salad with some candied pecans, Wild Night will make the dish… well… a bit wilder.  The sweetness of the honey can emphasize sweet flavors in the mix like apple chips or can cut flavors like earthy spinach.  Just be careful not to overpower the beer with salad dressing, and this beer will let its true colors shine.  For more flavor illumination, try this beer with a brie and fruit combination as well.
The Main Course


Turkey course with New Belgium Brewing's Fat Tire Amber Ale (5.2% ABV):  New Belgium Brewing's Fat Tire Amber Ale has great pairing potential with turkey's dark meat, its maltiness and mild bitterness along with caramel flavor from the malt will take on the turkey and match flavors with it.   Wrap the turkey in bacon, you say?  The mild roast from the beer touches on the cooked/ browned character and fat of the meats and the light carbonation in Fat Tire Amber can refresh the palate after each bite.
This year will also see a new Fat Tire – Fat Tire Belgian White Ale (5.2% ABV)- that will take on the light meat turkey, too.  Whether the brewery had Thanksgiving dinner in mind when they made this new beer, no one will know, but the dinner table is better for their decision to make Fat Tire Belgian White Ale. The light and juicy breast meat will fall in love with the light and sweet beer's wheat bread notes along with mild citrus.  Add herbed stuffing to the bird and the wheat beer's coriander and sweetness will elevate the whole dish to a higher, more flavorful plane of existence.
The Dessert Course
Dessert chocolate with Infinite Ale Works West Floridian Quadruple (10.9% ABV): Infinite Ale Works of Ocala has a lineup of beers that are "traditionally inspired and infinitely creative."  The best example of these beers is their West Floridian Quadrupel Ale, which combines sweetness with big malty and some fruity aspects in a beer that screams for a quality dessert to pair with.  While not thick in body like an imperial stout or barleywine, West Floridian will bring layers of flavor to the party.  Chocolate pecan pie?  The beer will add fruit and dark malty flavors.  Chocolate tiramisu?  The beer will bring the fruit to the chocolate party and its lighter body will allow it to slide through the chocolate cliffs like a river of flavor.

Pumpkin dishes with Coppertail Brewing's Night Swim Porter (6.2% ABV): Turn a pumpkin dessert into a parfait of flavors by adding a chocolatey porter like Coppertail Brewing's Night Swim Porter to the mix.  Pumpkin pie or pumpkin cheesecakes are already decadent in their own right, so rather than trying to mix sweet pumpkin flavors with something like a pumpkin beer, by adding a roasty and chocolatey porter to this course, it creates a sweet chocolate pumpkin symphony.
While many classic beer books have something to say about the science of beer and food pairing, the practice of pairing can be a fun and enjoyable experience. Pairing beer and food with Thanksgiving dinner does not require an advanced degree in gastronomy or a master chef's notebook, merely an adventurous spirit and a culinary curiosity.
Head on over to our Beer Finder and find one of these or another one of your next favorite beers, and have a happy and safe thanksgiving surrounded by great beer, great food, and great company.