UPDATE: TEAM CONE TALLAHASSEE BINGO POSTPONED UNTIL LATER DATE DUE TO HEAT.
_______________________________________________________________________________
Fresh off the heels of their record fundraising for Tallahassee's St. Jude Rib Sale,  Team Cone's Tallahassee Team is hosting an afternoon of Bingo on June 26th to benefit St. Jude Children's Research Hospital.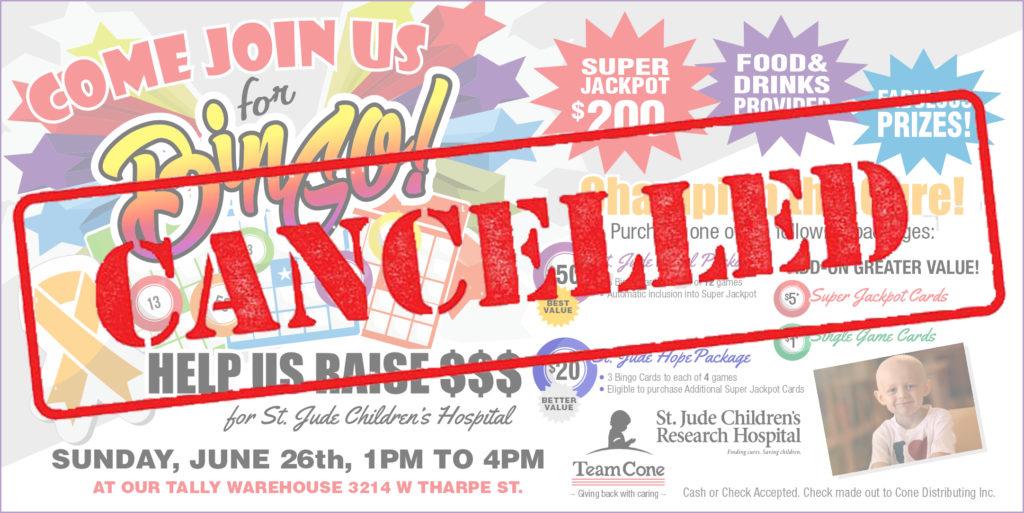 When:  RESCHEDULED – Date TBD
Where:  Tallahassee Warehouse 3214 W. Tharpe Street, Tallahassee, FL  32303
Time:  1PM to 4PM
Games:  12 individual bingo games each with prize packages, including our final Super $200 Jackpot Game.
Food:  YES we DO!  Beer, Soda, Water, Hot Dogs, Hamburgers, Chips, Cookies.  You will not leave hungry
Prizes given away include: 45 QT Coolers, Golf Bags, Corn Hole games, Roller Coolers, 20 qt Grizzly Coolers, 40 QT Coolers, Camping Chairs, Beach Chairs, Beer Neons and more.
HOW CAN I WIN?
Bingo Packages will be sold at the door so bring cash or checks (made out to St. Jude).
All proceeds go to the children and families of St. Jude Children's Research Hospital.
Packages for sale
$50 St. Jude Angel Package:  3 Bingo card to each of the 12 games, including the Super $200 Jackpot card
$20 St. Jude Hope Package:  3 Bingo cards to each of 4 games, eligible to purchase Super $200 Jackpot cards
Additional Add On:  $5 Super Jackpot cards and $1 Single Game Cards.
Team Cone's Tallahassee Bingo is open to the public for play. For more information, please call 850.576.4176, email info@conedist.com, or visit the Contact Us page of this site.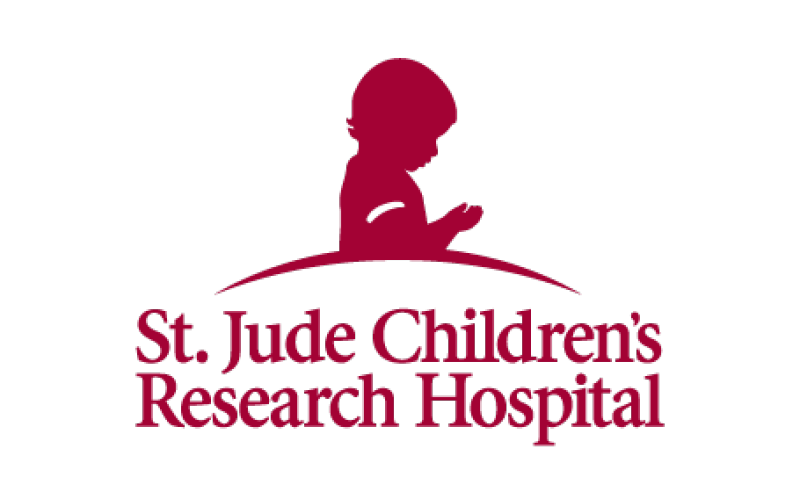 About St. Jude Children's Research Hospital
Families never receive a bill from St. Jude for treatment, travel, housing, or food – because all a family should worry about is helping their child live. Treatments invented at St. Jude have helped push the overall childhood cancer survival rate from 20% to more than 80% since it opened more than 50 years ago. St. Jude is working to drive the overall survival rate for childhood cancer to 90%, and we won't stop until no child dies from cancer. St. Jude freely shares discoveries made, and every child saved at St. Jude means doctors and scientists worldwide can use that knowledge to save thousands more children.

About Cone Distributing
Founded by Douglas P. Cone, Jr. in 1985, Cone Distributing (Team Cone) began business with selling five brands of beer in four rural counties. Less than two years later, the company began expanding territory and suppliers and has not stopped since, building the largest geographic footprint in the state for a Florida beer distributor. Today Team Cone sells beer, wine, cider, spirits, and hard seltzers from over 40 suppliers in 22 Florida counties from a state-of-the-art facility in Ocala and a facility in Tallahassee. Cone Distributing's goal is to operate a World Class company, distinguishing itself by doing the Right Thing the Right Way All the Time.