Team Cone named to list of Best Companies to Work For in Florida™
July 29th, 2019 (Ocala, Florida) The leadership of Cone Distributing (Team Cone) is proud to announce that the company has been named to Florida Trend Magazine's 2019 list of Best Companies to Work For in Florida™.
Team Cone earned this designation after evaluation by an independent third-party organization of the company practices, policies, information, and especially employee satisfaction surveys.  The anonymous employee satisfaction surveys contributed 75% to the overall competition score.
Team Cone's Human Resources Director Jonathan Jarrell attributes employee satisfaction to Team Cone's emphasis on Core Values and company culture.  "Being voted one of the Best Companies to Work For in Florida means that our teammates love coming to work here," says Mr. Jarrell,  "We promote and reward teammates that are committed to our culture and we are investing our resources in developing people to their fullest potential both at work and in their personal lives."
"Making this list of Best Companies took a lot of work," says Team Cone veteran Key Account Manager Charlie Feagin.  Feagin celebrated his 23-year employment anniversary with Team Cone on the same day that the company announced its place on the list of Best Companies to Work For in Florida.  "But now, more than ever, our teammates are showing how much the company's Core Values like Team, Communication, and Giving Back With Caring mean to them."
The title is most significant for the company's founder.  "This designation, to me, is probably one of the greatest honors that this company has had in its 34 years of existence," says Douglas P. Cone, Jr., Team Cone's founder and president.  "We are humbled by it, we are proud to have earned it, and we'll be proud to try to keep it and make sure that every day going forward we deserve what we've earned."

About Team Cone
Founded by Douglas P. Cone, Jr. in 1985, Cone Distributing (Team Cone) began business with selling five brands of beer in four rural counties. Less than two years later, the company began expanding territory and suppliers and has not stopped since, building the largest geographic footprint in the state for a Florida beer distributor. Today Team Cone distributes a broad portfolio of beverages from over 40 suppliers in 22 Florida counties out of a state-of-the-art facility in Ocala and a facility in Tallahassee. Cone Distributing's goal is to operate a World Class company, distinguishing itself by doing the Right Thing the Right Way All the Time.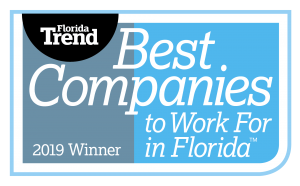 About Florida Trend's Best Companies to Work For in Florida™ competition
Each year, Florida Trend Magazine partners with the Best Companies Group to administer anonymous surveys to employees in eligible companies around Florida.  Employers complete an in-depth questionnaire and employees will have the opportunity to offer their honest feedback by taking part in a company-wide survey. Once both portions of the assessment are complete, the data is analyzed to determine if an organization has what it takes to be the "best."  The list of Best Companies is published in the August edition of Florida Trend Magazine.