Team Cone is excited to announce that PRESS Seltzer's exciting flavors will soon be available from our team.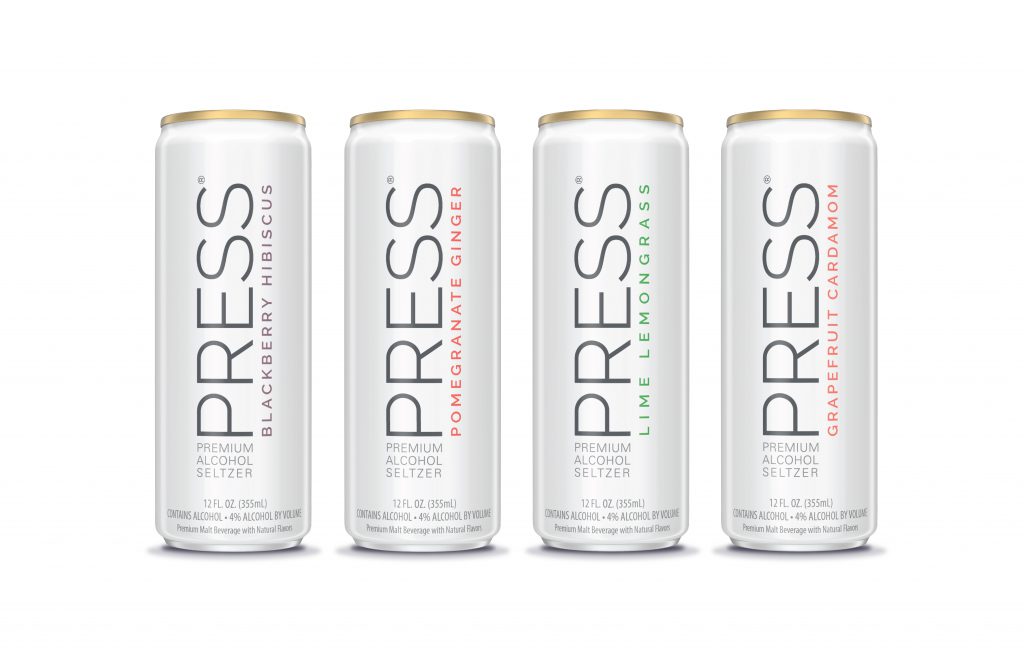 About PRESS Seltzer
PRESS Seltzer was born in Wisconsin, a company and a product launched by a working mother of two, Amy Walberg. PRESS presents drinkers with a spirited, spiced seltzer to savor life's delicious moments.
PRESS is crafted with all-natural ingredients at 110 calories and 4% ABV. The premium seltzer comes in four flagship flavors: Blackberry Hibiscus, Grapefruit Cardamom, Lime Lemongrass, and Pomegranate Ginger. Team Cone will be selling twelve-can variety packs that contain three cans of each of PRESS Seltzer's flagship brands.
Lime Lemongrass: Tangy, fresh lime citrus infused with aromatic tones of tangy light lemon and zesty herb.
Pomegranate Ginger: Refreshing sweet superfruit citrus with the slightly sweet and subtle spiciness of pure ginger.
Blackberry Hibiscus: Luscious berries that are succulent, sweet & juicy with a refreshingly distinct tangy/tart finish.
Grapefruit Cardamom: Sweet and tart bold citrus with a sophisticated and subtle pop of woody, herbal spice.
PRESS Premium Alcohol Seltzer is crafted with all-natural ingredients in a unique blend of fruits and spices for a light, crisp flavor profile and carbon-filtered to remove gluten. The seltzer was created by Amy Walberg, an avid seltzer fan who couldn't find a premium alcohol seltzer on the market. The midwestern mother of two has grown the company to be the largest independent alcohol seltzer brand, and it stands alone as the only woman-owned brand in the category.  Today, PRESS can be found in 32 states and in major grocers.
What are the reviewers saying?

"The flavors are more thoughtfully composed and nuanced here than with some other major brands ?— the tart and aromatic Grapefruit Cardamom, specifically, is a perfectly balanced cocktail." – BestProducts.com

"These five natural flavors taste the most like a complex cocktail. They're light and flavorful, but not overly sweet. Once you have a sip, you'll never want to sit by a pool or near the beach without one." – Eat This, Not That 

"When sipped on chilled, this can tastes like your favorite lemon-lime soda, without the added sugar. It has a mildly herbaceous flavor and the smell of fresh lime zest. Pass us a can!" – Good Housekeeping
Want to try the inspired, spirited, and spiced seltzers from PRESS Seltzer?
Keep your eyes peeled on our Beer Finder and local store shelves for PRESS Seltzer or ask your Team Cone representative for more information.