In a world where cookies and milk dominate the dessert plate, a new challenger emerges when beer comes into play. Now is that time of year when those adorable Girl Scouts are unavoidable with their smiles and their Samoas, give one beer a shot and milk will be in the dog house.
Not sure where to begin? Give some of these pairings a try:
S'Mores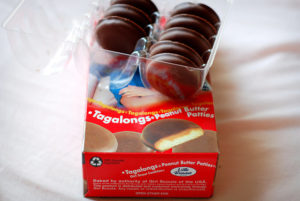 Made to taste like the campfire classics, these cookies have some mild hazelnut-like chocolate character with subtle vanilla, mallow, and graham cracker as supporting flavors. These would benefit from a beer with roasted or toasted malts and some coffee character as well.
Try a S'More cookie with Swamp Head Brewery's Midnight Oil Oatmeal Coffee Stout. The toasted malts and the black coffee character in the stout build to a crescendo with the assertive chocolate from the cookie. As the contrast between light and dark/ sweet and dry flavors ramps up, you must just need more of each to get the full effect.
---
Samoas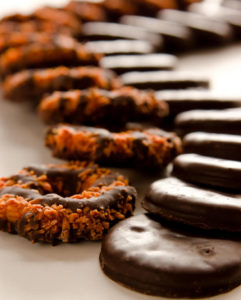 These cookies have the taste of chocolate, coconut, and vanilla – everything that is good and wholesome about a stout but in cookie form. These beers pine for great beer and are will yield their dark, sweet goodness to anyone lucky enough to get the right combination of flavors.
Try a Samoa cookie with Coppertail Brewing's Night Swim Porter – the dance that takes place between sweet cookie and coconut and chocolate is one of epic proportions. Open a bottle, open a cookie, and taste the flavor explosion as all manner of sweet, roasty, and dry chocolates meld together and create a new definition of awesome.
---
Savannah Smiles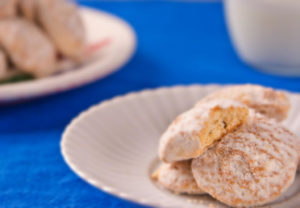 These lemony sweet things are dusted with sugar and make a sweet citrusy sugar blast. Try these smileys with a beer that is already leaning that way like a Belgian witbier or other mildly citrus-centric beer.
Try a Savannah Smile with a Dogfish Head Namaste White Ale. The lemony citrus notes in the witbier combine with the sugary lemon character in the beer and a winning match is made. For some extra oomph, try a Samuel Adams Fresh As Helles with this cookie. The light orange blossom notes come in and compliment the oversweet lemon in the cookie.
---
Trefoils
Cookies at their simplest: shortbread. These sweet little bundles pair best with a beer that can match wits with their deceiving simplicity. Try a beer with a little more malt character in it to balance out the scales.
Try a Trefoil cookie with a white ale like Samuel Adams Cold Snap. The citrus and spice in the beer will come forward as meeting the cookie where it lives and giving the mild sweetness of the cookie a little boost. This pairing will match the light flavors of a shortbread cookie with the light flavor of a spiced white ale and like any great marriage, these two will work together towards the flavorful goal of a quality pairing.
---
Do-Si-Dos?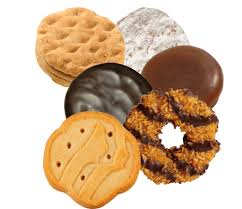 These little peanut butter sandwich delights ask for another flavor to help make them complete and while they stand alone, like Jerry Maguire, they just want someone to complete them.
Try a Do-Si-Do cookie with a malty beer that has some fruit component like a quadruple like Chimay Blue. The fruitiness in this quadruple makes the peanut butter in the cookies taste like a childhood favorite of a sandwich.
These beers are our attempt to work out a pairing with Girl Scout Cookies and beer, and ones that we think work the best. While not every cookie is on this list, take that as a challenge. Don't take our word for it, give your favorite pairings a try, and let us know on Facebook or Twitter your perfect #cookiepairingbeer.