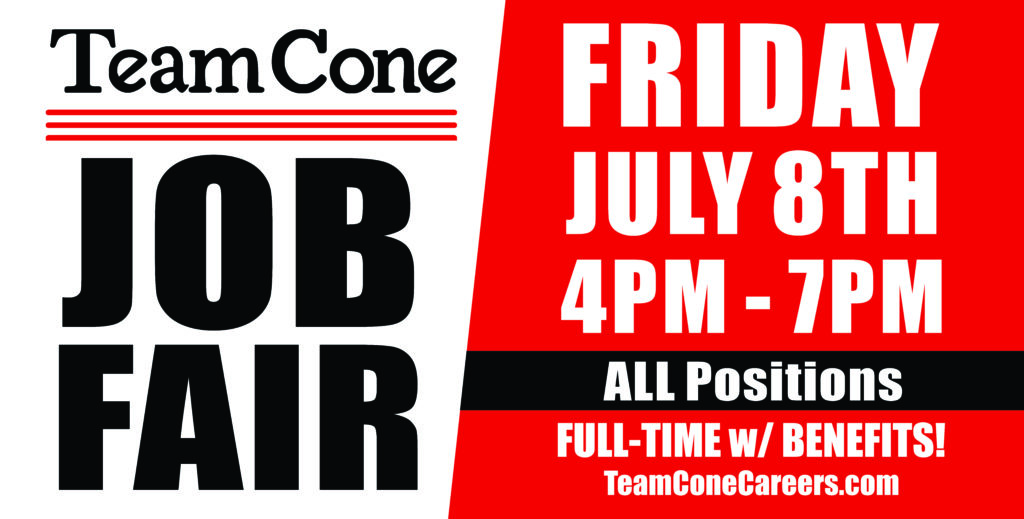 Cone Distributing (Team Cone) announces upcoming Job Fair at their Tallahassee Warehouse 
Team Cone will open the doors to their Tallahassee facility and host open interviews for all positions in Tallahassee beginning at 4pm on Friday, July 8th.
"We're always looking for great teammates, and this Job Fair is the perfect opportunity for someone who is interested in a career with Team Cone to come to the warehouse and be interviewed on the spot for a position," says Team Cone Vice President of Operations, Steve Beckwith.
Team Cone is searching for great teammates to work for the team in positions throughout Tallahassee, Leon County, and beyond.
Friday, July 8th from 4pm until 7pm
"This is the beer business, and the beer business is supposed to be fun," Beckwith says. "We do our best to make the job fun because at Team Cone, we don't hire for jobs, we foster careers. If you'd like a job, go somewhere else. If you would like to start a career, come to Team Cone, it's that simple."

About Team Cone
Founded by Douglas P. Cone, Jr. in 1985, Cone Distributing (Team Cone) began business selling five brands of beer in four rural counties. Less than two years later, the company began expanding its territory and suppliers and has not stopped since, building the largest geographic footprint in the state for a Florida beer distributor. Today Team Cone distributes a broad portfolio of beverages from over 40 suppliers in 22 Florida counties out of a state-of-the-art facility in Ocala and a facility in Tallahassee. Cone Distributing's goal is to operate a World Class company, distinguishing itself by doing the Right Thing the Right Way All the Time.
Team Cone was chosen in 2019, 2020, and again in 2021 as one of Florida Trend Magazine's Best Companies to Work For in Florida.
FOR MORE INFORMATION ABOUT TEAM CONE
What does a Merchandiser do? See what our teammates said when we asked our current Merchandisers.
Where can I find out more information about Team Cone? See what our teammates said about us when we were voted Best Companies to Work For In Florida.
What is a beer distributor? See what the National Beer Wholesalers Association says about beer distributors.