We recently sat down with Infinite Ale Works co-owner and co-founder Tom McDonald to talk about the story behind the brewery and plans for the future.  Pull up a stool and listen in:
Tom McDonald started his life in the Florida beer community not as a brewery owner but as a co-owner of Pi on Broadway.  Pi was one of the first eateries to pour craft beer and show its flavorful attributes to Ocala. The story of Infinite Ale Works begins with Tom's beer curiosity and a Pi customer who was passionate about Belgian beer.  "We had a gentleman come into Pi a lot and was very passionate about his homebrew and about brewing," Tom said.  Jim Ritchhart, a homebrewer and Belgian beer enthusiast, helped drive Tom into brewery ownership and starting Ocala's first craft brewery.
"I try to align myself with people who are passionate about things," Tom says of Jim.  "So, we talked and then opened up a brewery."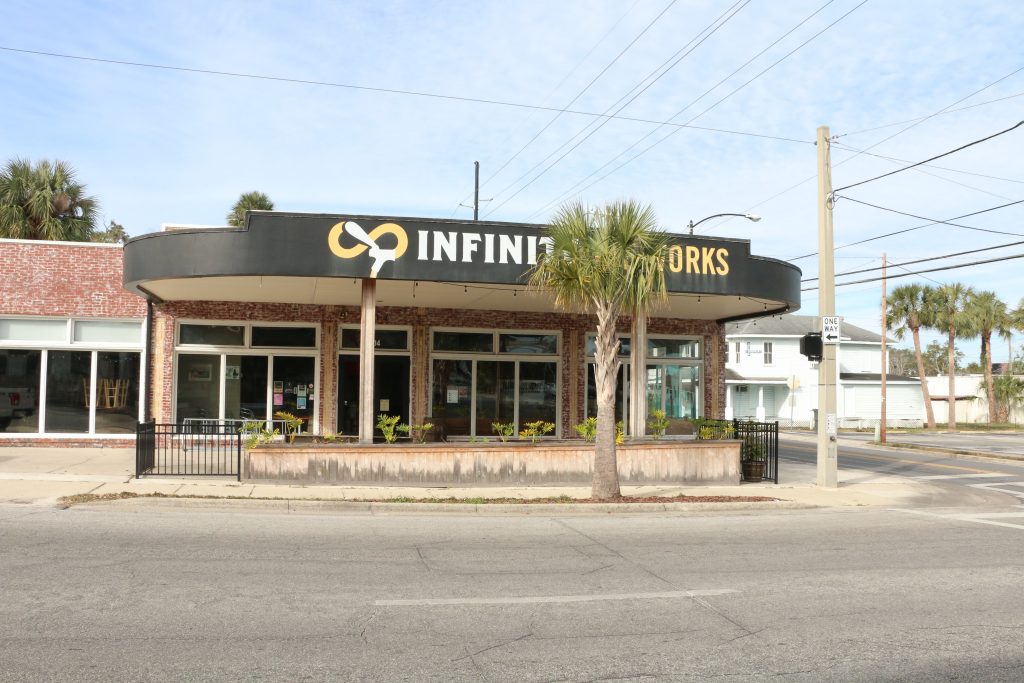 Infinity Begins
While Tom says it in a matter-of-fact manner, it was no easy task to open a brewery – when he expands on it. "We opened on St Patrick's Day of 2014. The first year, we were waiting for our TTB license, so we served 40 guest taps. We rolled out our own drafts the following year.  2015 was when we started making our own beer," he remembers.  When Infinite opened and started making its own beer, Tom remembers the downtown community taking notice.  "People were excited to see something new that was only three blocks off The Square.  They were willing to make the walk to the brewery." Infinite Ale Works had found its customer base, and that base continues to grow. "Our customers are a mix of people," Tom posits. "Really, they are just people who want to try something that is quality and is made locally."
Much of the inspiration for Infinite's beers is born from Jim Ritchhart's love for Belgian beer. "Jim has been to Belgium a dozen times and brews a bunch of Belgian beers." But, Tom says that after the brewery got started, they didn't want to limit their creativity to one style.  "Once we got everything started, and with everything that was exploding in the beer scene at the time, we didn't want to pigeonhole ourselves into a small tiny corner in the world of amazing beers, we looked at the big picture and figured that we love great beer."  That decision inspired the brewery's tagline which helps steer the ship: "Traditionally inspired but infinitely creative." Tom smiles.  "We love Belgian-based beers, but we definitely step out and do other styles, too. We like to explore, we also like the traditional historical styles as well.  We have our Belgian Wit, Witfinite, on draft – that won a silver medal from Best Florida Beer Competition. We also have a New England IPA, called Chaos OJ, and we have a sour version as well.  We also brew a Belgian Pale, Infinite Trails, but it has the same yeast as West Floridian Quad (a big 9.5% ABV Belgian dark strong ale).  It's a lighter, slightly hoppier beer.  It is twofold for us: when it's hot out, we want something lighter, plus [Infinite Trails] also acts as a yeast propagator for West Floridian so it can do the big work we need it to do on the big quad." Tom says that the brew staff does not like to limit creativity, but at the same time, they also try brew beer that their customers enjoy.  "We like to step out of the box and try a lot of cool stuff because we like variety, but we also like our Belgians, and our Belgian quad is one of our best sellers."  The fact that their West Floridian is one of Infinite's best-selling beers seems a bit uncanny in a world where India pale ales and light lagers seem to be hogging spotlights.  "We heard things like that all the time," Tom remembers.  "'A Belgian quad in this area?' people would say.  But this area is no different than anywhere else except that they may not have had the exposure of trying new things.  Give the beer to them and they're like 'Wow. That's what that is?  That's good.'"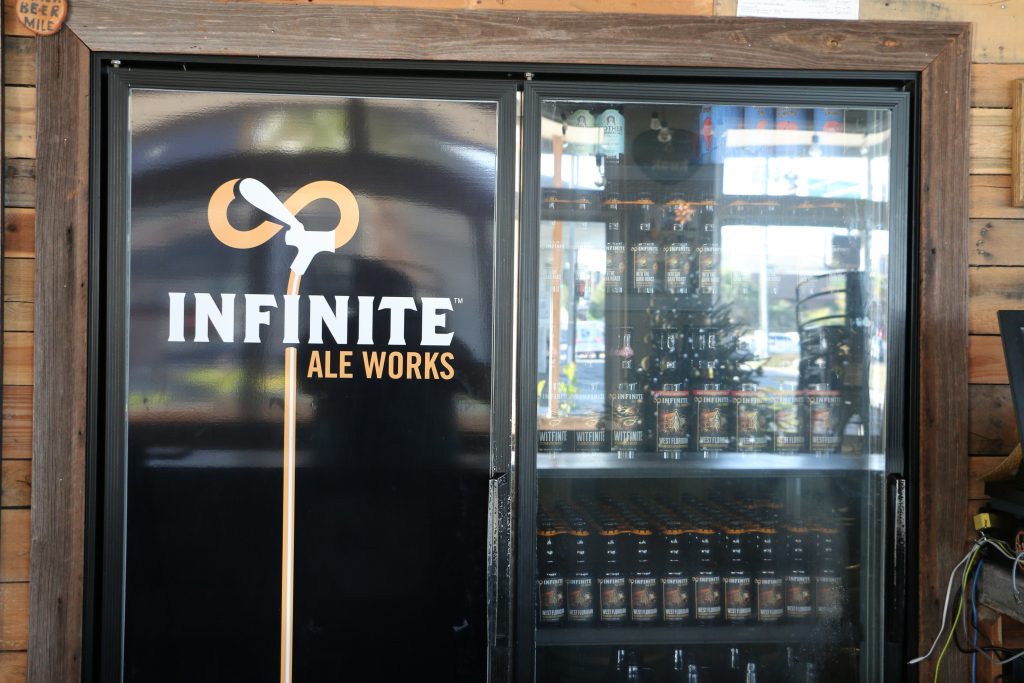 A Rare Opportunity
As more and more folks discovered Infinite Ale Works's beer, the brewery continued to grow.  After their reputation for Belgian-influenced beer increased, a friend of Jim's was coming to town for a beer event and decided he wanted to collaborate with Infinite on a beer – this friend happened to be Urbain Cotteau, the head brewer at Belgium's De Struise Brouwers. De Struise is well known for their unique ales, especially Pannepot – a quadruple like Infinite's West Floridian.  Tom remembers the experience of working with Urbain: "We collaborated because Jim was friends with the brewer. We did a quad because it was Jim's favorite beer.  They collaborated on what kind of beer they wanted to make.  It was definitely different…" Tom remembers.  He recalls that "Jim, Michael Koonz (our head brewer at the time), and Urbain were back there knocking it out, and the three of them had completely different approaches to brewing.  Jim and Michael were fresh up from the homebrew world with this brewing legend in there, and they were nervous and everything had to be just so, and Urbain was like 'Ah, it's beer, it's fine.'"  The casual attitude from someone with over 20 years of brewing experience was somewhat of a surprise to the brewers. Tom says once the brewing was close to finished, "there's some runoff left after the mash, and Urbain says, 'put it in a bucket out by the street and we'll collect some local yeast.'  So we did. We put it out in a bucket by the street with cars going by, and he didn't care.  We fermented it out, kegged it up, and let it ferment in our pilot fermenters. It was pretty good.  We had to pitch some additional yeast, and it was probably mostly the yeast we pitched, but it still tasted different from the other beer.  The finished beer would be called "EXXXactly (picture below)."
"The point was that Urbain had been doing this commercially for 20 years and he says, 'Ah, it's just beer.  Good beer will shine through,'" Tom remembers. 
Thanks to this collaboration, drinkers were able to taste West Floridian fermented (in part) with yeast from West Florida.
What's in the hopper for Infinite Ale Works
During the brewery's first operating year, they operated as a beer bar, pouring from 40 taps. In the second year of business, Infinite Ale Works brews were only served in the taproom, which allowed for some evaluation of which beers would be better sellers.  Tom says he had to consider the area when making decisions.  "We still are in a rural distribution market, so we think about things like not scaring people away from trying something new, but then the opposite side is I've given West Floridian to macro drinkers and they usually love it. And then we have a beer like Infinite Trails, which helps us propagate yeast for West Floridian, there's that practical side of it, too. We try to look at things that will sell and that we can produce in volume."  Once the brewery transitioned into making their own beers, they were able to cut a trail for the kind of beer they wanted to brew.
Once they knew the kind of beer they wanted to make, Infinite Ale Works decided to go into distribution with Team Cone and to sell beer beyond the taproom. Tom believes, "Beers are going to continue to move toward drinkable beers that people can drink a lot of.  We'll see a breakout of some niche products.  Our West Floridian and our Into the Dark Roast are both that." While these beers are niche products, they are definitely the ones that the people are clamoring for, so these are the beers that will be distributed in 375mL (12.5oz) glass bottles. While cans are popular, Tom acknowledges, "You don't see a lot of breweries doing the size that we're doing.  Everyone seems to be looking at cans, so we're trying to distinguish ourselves with bottles.  We'll have our own niche on those and look at the other end – something lighter for drinking on the boat or by the pool."  While bottles have different implications in a supermarket or beer store, bottles are a more traditional vessel for beers such as Infinite's. "We're going to start with bottles, and as we grow we will look at the market.  There is a lot of canning competition out there," Tom admits.  "There are only so many cans of pale ale and IPA that shelves can support.  I'm not hating on any of those, but we're behind the curve on that, so we are going to stick to what we know and try to do something at the other end of the spectrum."
While distribution has been successful for Infinite, Tom aspires to seeing Infinite's beers around the state.  "[We are] currently distributed in 22 counties with Team Cone and also 6 counties in Orlando over to Melbourne.  We would like to be in the whole state, but it has been harder to get into distribution for sure.  Literally, yesterday we were talking about changing tactics and changing what we're doing right here to draw attention to us."
Changing tactics has been successful for Infinite in the past. One of the biggest changes Infinite Ale Works made was two years ago when they brought on Swamp Head Brewery's founding brewer Craig Birkmaier as head brewer.  Craig immediately set to work changing procedures to increase efficiencies and making other subtle changes to the brewery as well. Tom recalls that Craig "really helped us achieve the commercial level of consistency that we were looking for.  We had originally scaled up our homebrew recipes, but Craig has been a huge asset.  You can also see his influence on our tap list as well."  One of those influences has been Infinite's Mosaic Session Saison, a light-bodied and hoppy table beer with low alcohol content and noticeable hoppy aroma and flavor. 
As Craig came on to the staff at Infinite Ale Works, he began to work on their brewing processes, but his love for Infinite's repertoire of beers made him a perfect fit.  "I'm a traditionalist," Craig asserts. "I really honor and love the ability to do traditional beer styles and to make them well. Once you can do that, you can start playing and almost do anything else you want."  While he continues to make the traditional styles well, Craig says his two greatest points of pride are West Floridian and Infinite's fall seasonal.  "The thing I'm most proud of is West Floridian – it's not my recipe, but I have made many changes and learned how best to brew it.  In terms of my favorite beer, I hate pumpkin beers with pumpkin pie spice, so we made a different pumpkin beer.  We took 75 pounds of pumpkin and roasted them with brown sugar at Pi on Broadway.  Then we made a saison with sweet and bitter orange, coriander, and grains of paradise with a dry-spiced (like dry-hopping) the beer with sage. That one was my favorite."
The Tasting Room: Many Moving Parts
While achieving consistency and keeping distributors full with beer to sell has been a challenge, Tom talks of another challenge closer to home: the Infinite Ale Works tasting room.  "One of our biggest hurdles since we opened as a taproom… has been working to keep 6-8 of our own beers on tap.  We still have quite a few guest beers; there's probably a dozen."  It is quite a job for the brewery staff to keep the taproom supplied with unique beers made in-house, but the creative side emerges to fill a few extra taps, Tom reports.  "Right now we have a session saison on tap that has been hopped with several different hops so you can see how the different hops shine and the effects of the hops on the beer.  We also have our Belgian wit, our Raspberry Belgian wit, and then a sour version of our Belgian wit.  We also have a pilot system, and we crank out about one barrel batches." "We try to keep 18-20 of our own beers on.  For our anniversary, we will have all of our beers on all 32 taps."  After all the work to open and continue growing, in a few short weeks Infinite Ale Works will celebrate four years in business.
Tom smiles and says that four years is only the beginning, though.  "As we grow and expand, we want the tasting room to have a feel like you're in the brewery."  While the current tasting room may not have that feel, that may mean a new home for Infinite Ale Works, but don't fret – Tom knows that Ocala is where the brewery is most at home.  "As we talk about growing and expanding, [the feel of the tasting room] is a consideration.  [Expansion] is something we've talked about for a couple years, but we want to stay downtown."
In addition to growth, Tom says that he looks forward to seeing more creative beers coming out of the brewery, too.  "We'd like to grow our barrel program; we've had a lot of success with barrel-aged West Floridian.  We also do a snickerdoodle barrel-aged Dark Roast that's pretty phenomenal, and that should be coming out in February.  Those are two aspects that we want to push and we'll keep trying new stuff."  Tom also lauds the brewery's pilot brewery, so new batches can be brewed on a small system and tested in the tasting room before launching to a wider audience.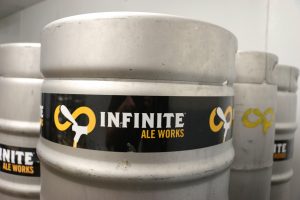 Keeping Infinite moving
Tom says his team keeps growing and keeps him coming to work.  "We have an awesome team here.  We've grown that team over the last two years and we are doing some restructuring so we can continue.  It's a pretty awesome team and a close family.  We have Sam as the taproom manager.  Juan and Kyle help Craig in the back brewing beer, and we have Travis, our sales manager.  That's our roundtable of people; that's definitely the future for us – growing the family and adding more like-minded beer people."  And also, he adds, "Working with beer is cool."
Looking to the future after learning so much from Infinite's humble roots, the question floats to Tom: "Any tough lessons from brewery ownership?"
With no hesitation and a wry smile, he replies, "Every day."
For more information on Infinite Ale Works beers, click over to our Beer Finder and find a friendly draft list with Infinite beer near you.