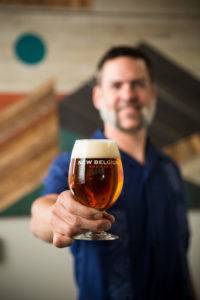 Behind every craft beer label there is a story of how this beer came to be. Join us as we peel back the layers of the beer and find the story behind the label.
New Belgium Brewing's Fat Tire Amber Ale, and the entire company of New Belgium Brewing is built on the iconic image of a bicycle, but why? That bicycle and the company it represents were all dreamt up on New Belgium Brewing's co-founder's legendary bicycle tour of Belgium.
When he was 32 years old, Jeff Lebesch set off on a bicycle tour of Belgium on a fat tire bike in an attempt to slow down and connect with nature and people in a way that would have been impossible on a train. While touring the city of Bruges, Jeff stopped at a bar called Bruges Beertjes on a Wednesday. Normally, the bar would have been closed, but because it happened to be a national holiday, the bar opened at 4pm. When Jeff went into the bar, it was empty because all local patrons assumed it was closed. As he was the only patron in the bar, Jeff had an enlightening experience with the bar's owner. For ninety minutes, the publican poured forth knowledge of beer and spices, history and science and at the end of that time, Lebesch left the bare aflame with the spirit of Belgium's brewing culture.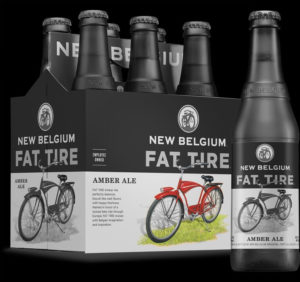 Upon returning to Colorado, the story of Fat Tire began to take shape. Jeff starting brewing and amber ale that he called Fat Tire, a nickname for mountain bikes in Colorado, in honor of that trip overseas. When he and his then-wife Kim Jordan started New Belgium Brewing Company in 1991, Fat Tire would go into production as the brewery's cornerstone. All the initial production of New Belgium's beers was done in the couple's basement. By 1992, Jordan and Lebesch decided to move the company into its own home and out of theirs. Ten years later, New Belgium installed a second brewhouse in their Fort Collins brewery. By 2013, New Belgium Brewing had transitioned to 100% employee ownership. And in May of 2016, New Belgium opened a second brewery in Asheville, North Carolina. While New Belgium's success cannot be attributed solely to Fat Tire, the brewery would not have come so far without Jeff's trip or the amber ale that was born from it.
Since that bicycle tour helped invent the idea of a "New Belgium" in the United States, the bicycle became the icon for the brand and is now stamped on every beer and etched into every corner of the company's culture. After one year of employment at New Belgium, employees receive their own limited-edition Fat Tire Cruiser. After five years of employment, those employees get to go to Belgium to trace Lebesch's steps on the same tour to "expand [their] knowledge and culture of all things Belgian."
An entire company got its start from one bike ride, and now New Belgium Brewery has committed itself to spread the love of Belgian culture and appreciation for unique beer that Jeff Lebesch found on that fateful day through their Fat Tire Amber Ale, Fat Tire Belgian White Ale, and all other beers made by this iconic brewery.