On St. Patrick's Day, it's said that everyone is Irish and that the beer flows like water in pubs all over the world.  While that may be true, but there's so much more to a pint of Guinness stout than just what can fit in a pint glass.
While they're not the world's oldest brewery, Guinness has made up for lost time with their good works done under the Guinness family.  Ever since their 18th-century start, the brewers of Guinness have been making world-renowned stout in Dublin – a that tradition continues to this day. Looking back through the company's long history, it is clear that the people of Guinness make as much difference as the beer.
Here are five things to toast in the history of Guinness, the legendary stout: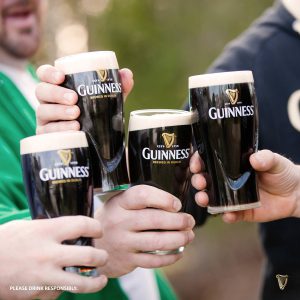 *There are ten million glasses of Guinness consumed each day around the world.  That's approximately 2 billion pints of Guinness per year!
*In 1759, Arthur Guinness founded the brewery at St. James Gate in Dublin and had an idea that the business would last.  The term of the lease was 9,000 years! 
*During World War I, Guinness guaranteed jobs to all employees who left the brewery to serve in the military.  They also paid half salaries to the families of those fighting men while they were away!
*In December of 1939, Guinness gave every soldier in the British army a pint of stout to enjoy with Christmas dinner. 
*In 1900, Guinness employed a chief medical officer for the company. Dr. John Lumsden was so respected that he was given a knighthood by King George V for his efforts fighting disease and squalor while working for the Guinness brewery!
This St. Patrick's Day, when you raise a toast to the Irish, their patron saint, or the friends in front of you, know that there's a story in every pint of this smooth stout. Cheers!