Cheese Lover's Day comes around each year – a day to celebrate what happens to milk as it becomes a few layers more awesome. Cheese Lover's Day is also a day that is best celebrated with a gift from one of the few liquids that will make cheese more enjoyable – beer!
Few flavors pair as naturally with cheese like good beer, and for Cheese Lover's Day, we have a few suggestions for your cheese-pairing delight:
(Note: all of these cheeses and most of these beers are available at local supermarkets and cheese stores.)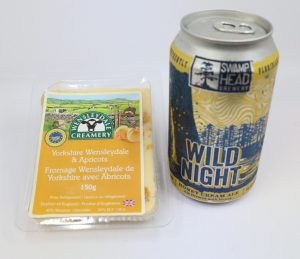 Swamp Head Brewery Wild Night Honey Cream Ale and Wensleydale Creamery's Yorkshire Wensleydale & Apricots cheese: The sweetness of Swamp Head Brewery's Wild Night Honey Cream Ale matches well with the creamy English cheese from Wensleydale. The blend of apricots in the cheese provides a slightly tart counterpoint to the beer. The light body and sweet finish in the beer dance well with the fruit in this mild cheese both finishing with a sensation that the blend of the two is greater than the sum of their parts.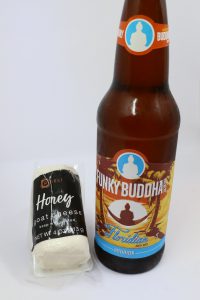 Funky Buddha Floridian and Publix Deli Honey Goat Cheese: The phrase "goat cheese" can conjure many different images in the listener's mind, but this particular goat cheese is mild with a honey sweetness that cuts through the flavor profile of the cheese and pairs well with a hefeweizen like Funky Buddha Brewery's Floridian. The light orange and sweetness of Funky Buddha's signature beer leave plenty of room for the cheese to express the honey and some mild funk while making it a bit sweeter in the end and blending the final flavors wonderfully.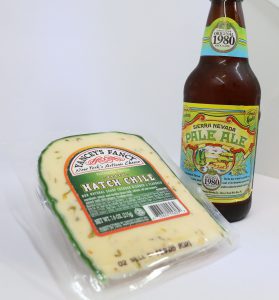 Sierra Nevada Pale Ale and Yancey's Fancy Hatch Chile Cheddar Cheese: Whenever a cheese contains peppers of any spice level, it screams out for a hoppy ale to accompany it, and this duo is no exception. Yancey's Fancy Hatch Chile Cheddar is from a wonderful creamery in New York that does this particular cheese well – it is not overly spicy, it simply has notes of earthy hatch chiles. Sierra Nevada Pale Ale brings the hops to the party which provide a bitterness that can cut through some of the vegetal pepper notes and bring in the caramel flavors, too. The end result has sweet character from the Pale Ale's malted barley, some sharp notes from the chiles, and bitterness from the beer that allows the sharpness of the cheddar to join the flavor of the pairing as well.
Coppertail Brewing's Unholy Trippel with Sartori's Tennessee Whiskey Bella Vitano: This pairing may seem a bit counter-intuitive, but trying will eliminate any doubt. Coppertail's Unholy Trippel brings in some slight earthy character and an American hoppiness that just gets to the heart of the cheese. The Whiskey Bella Vitano has a great deal of vanilla character that just gets to the heart of the Unholy Trippel, with the hops leading everyone to the dance floor. The final flavor is an unusual but intriguing mix of funk from the Trippel, sweetness from the whiskey aging, and creaminess from the cheese.
Whatever your favorite flavors, we invite you to try a new cheese and pair it with a beer of your choice, looking for the best out of the pairing. Click here for our beer finder, where you can find your next favorite beer.
About Cheese Lover's Day:
A day to celebrate cheese? Absolutely!
While there is no firm evidence of how cheese making was discovered. but legend tells us it was likely by chance that someone created the first cheese. Thousands of years ago, people transported milk and stored it in sheep's stomachs. Left to sit a few days, the proteins would separate into curds and whey. From there, preserving the solids with salt may have seemed a logical next step. Salt was a highly valued preservative in ancient times.
How to celebrate Cheese Lover's Day: Enjoy some cheese with your lunch or as a snack. Share your favorite cheesy recipes or puns. Try a new cheese pairing. Visit your favorite cheesemonger and be sure to give a shout out, too. Use #CheeseLoversDay to post on social media.