Born from an idea at SOF Command
Tallahassee's newest brewery, Special Operations Forces (SOF) Brewing, can trace its origins back to a snowy day in the nation's capital. Future brewery president Kris Hasenauer got a call from his brother David. "January 2018, I was working for Special Operations Command in Washington, DC, and my brother called me," remembers Kris. "It was a snow day and I was enjoying a few beers at home." Like so many beer enthusiasts before them, Kris and his brother made a declaration that they enjoyed beer so much that "We should start a brewery." Since that day in 2018, the brothers set out on a mission to build a team and get Special Operations Forces Brewing Company off the ground.
As they started SOF Brewing Company with only an idea, the brothers agreed that the brewery should be one with a mission: to be a force for good. The brothers wanted to make a brewery where they could gather with the local and military communities at the same time to enjoy great beer, but as important as great beer was the second part of the mission: to give back to the community that had supported them.
 Build the brewery and they will come. Start with beer.
The brothers had accepted their mission to build SOF Brewing Company, and they flew down to Florida to meet with investors. While the meeting with investors fell through, the brothers picked up Kyle Harth as the brewery's Chief Marketing Officer and got a meeting with local brewery 26 Degrees Brewing to talk about beer. "They asked us 'what do we want out of a beer?'" remembers Kris. "We were military guys, so we said we wanted something that tasted good and we wanted to drink several at a time. So, we didn't want fruit in the beer and we just wanted to enjoy beer-flavored beer."
SOF Brewing's first beer was born from this meeting and collaboration with 26 Degrees Brewing. "We told 26 Degrees that we're not beer business guys, we're beer-drinkers. We know that military guys like to drink beer and we had some ideas about where we wanted to go with the beer." The SOF Brewing Team wanted to make beer but wanted to test the market to see how other people liked their beer first. "That's why we decided to make this first run and give all of our proceeds to charity. For us, this is a business and while we want to make money, there's a lot of camaraderie and different things that you can bring into this," Kris says. "That's where it went."
More than beer
For the SOF Brewing Team, the beer is only part of the mission. Kris admits that the team "wants to be a successful business, but there's more to it than that for us. There's a philanthropy aspect that is inspiring to all of us." The team is choosing to use the beer to benefit a charity whose impact they have seen firsthand. "We had started a partnership with a few different charities and one of those is dear to us – The Danny Ray Sanchez Foundation," Kris says. "Danny was on our Special Forces Team – he was an Air Force Combat Controller and he was killed on our deployment. Danny's mom then started a foundation for him." The team decided to help this foundation because they had seen the foundation's direct impact on the community. "We are going to help Danny's mom develop her scholarship program and we're going to buy service dogs through her foundation and part of our profits are going to go back to her and help her support that mission," reiterates Kris. That's huge for us. That's where the proceeds from this first run of For Patriots Lager is going."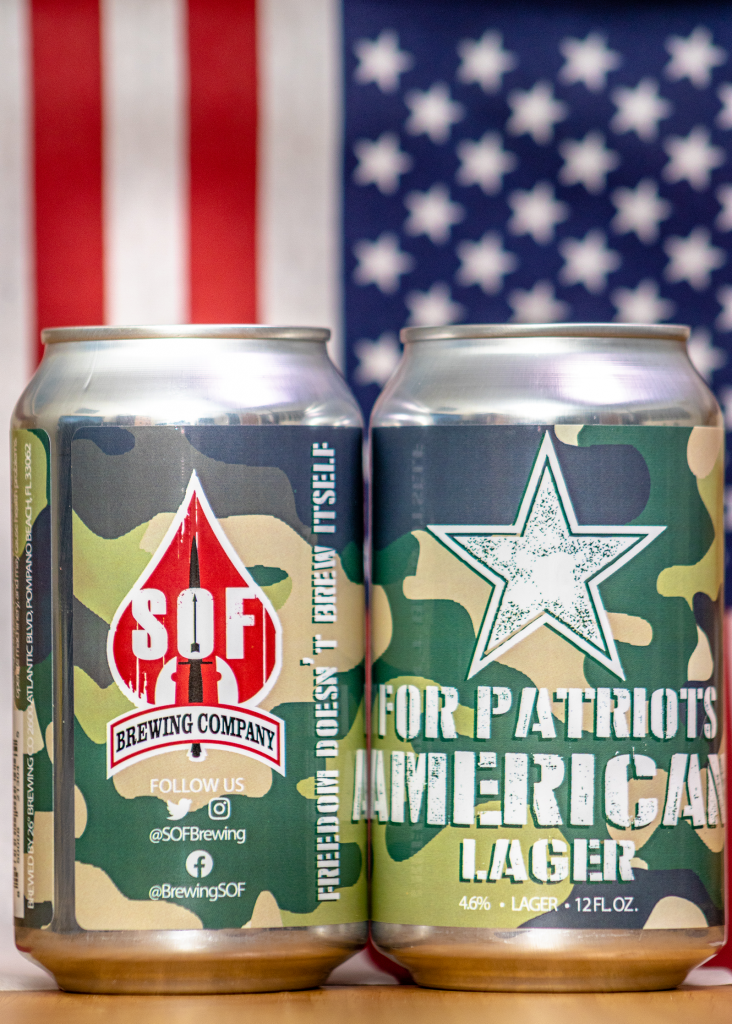 Finding a home for the brewery
The SOF Brewing Team did not start in Tallahassee, but they knew when they looked at the building that the brewery had found its home. "We started a deal in Ocala," remembers Kyle.  We were trying to get the old Fire Station One at Tuscawilla Park. Kris and I were in the Special Forces unit that was in Ocala. We were excited to go back to Ocala. But business being business it just fell through." When brewery space in Tallahassee came open, the team knew that would be the home base of SOF Brewing. "My brother and I both went to Florida State," says Kris.  "We had pretty solid Tallahassee roots. We would come up here for gamedays and business, and we love this city. That's how the brewery ended up here."
Finding the right brewer for SOF Brewing
Once the team had found their home and their first beer, the next step was finding the right brewer to make the kind of beers that would move SOF Brewing forward. The Team found Larry Agee, the veteran Tallahassee brewer who wrote recipes for some of the beers that the people of Florida's Capital City have come to love.
Larry has experience brewing as a homebrewer and commercial brewer and was happy to join the SOF Team. "I was looking for a new opportunity and am excited to build a new beer portfolio with this team," says Larry. "I am excited to be brewing again and to start working with this new team."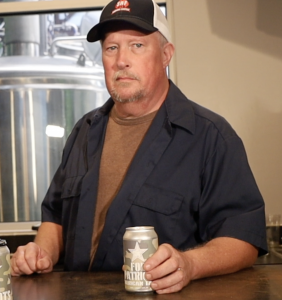 Creating a brewery for everyone
While they are enthusiastic about building a brewery where veterans and active-duty military can come and enjoy a beer or two, Kris, Kyle, and the SOF Team want to be known as a brewery where everyone feels welcome and will come to try some of Larry's latest beers.
"Every service has a bond: military people, especially Special Forces, law enforcement, first responders, all of us," says Kyle. "When you look at that, that's really what drew me to doing this type of work." Kyle explains that the best part of his job is "I get to jump out of planes and go diving and blow stuff up. That's great. But I get to do it with this amazingly interesting and diverse group of men and women who I feel like are my brothers and sisters." Kyle explains that the brewery is a way to build on experiences and create a welcoming place and a brand of beer everyone can enjoy. "Being able to take guys that we've worked with and form that into a business and share that psyche or general friendship. We looked at it and saw that the common bonding element was beer. We all love beer. We've been drinking beer with almost everything we've done in the military with all of our friends. Why not center a business around something that we can continue to do that with? And something that we can share our story and our passion for our work in a new medium."
What's in the hopper for SOF?
While the SOF Team is working to get the Tallahassee brewery operational, they decided to launch distribution with the second batch of For Patriots Lager. While the brewery will open its tasting room in time, they wanted to launch their first beer so they could begin to hear from the community and give back to the community.
Kyle says that he is excited about the good that the Team can do with the brewery. "Not only would I like to see the proliferation of product, but I think from a philanthropic side, I am excited about the ability to give back." There is more to SOF Brewing than just the beer and the business. "Our success is always going to be measured not against what we make, but what we give back. If five years from now, we've achieved a broader and greater success, that only gives us the ability to give back to foundations like the Danny Sanchez Foundation." Charities like this are at the heart of the brewery's mission and purpose. "That's our whole gig. We'll retire from the military and being able to produce something that's fun that bonds people together that also amplifies our ability to give back. The more success we achieve, the more we can do of that work."
The beer, the cause, and the mission for SOF Brewing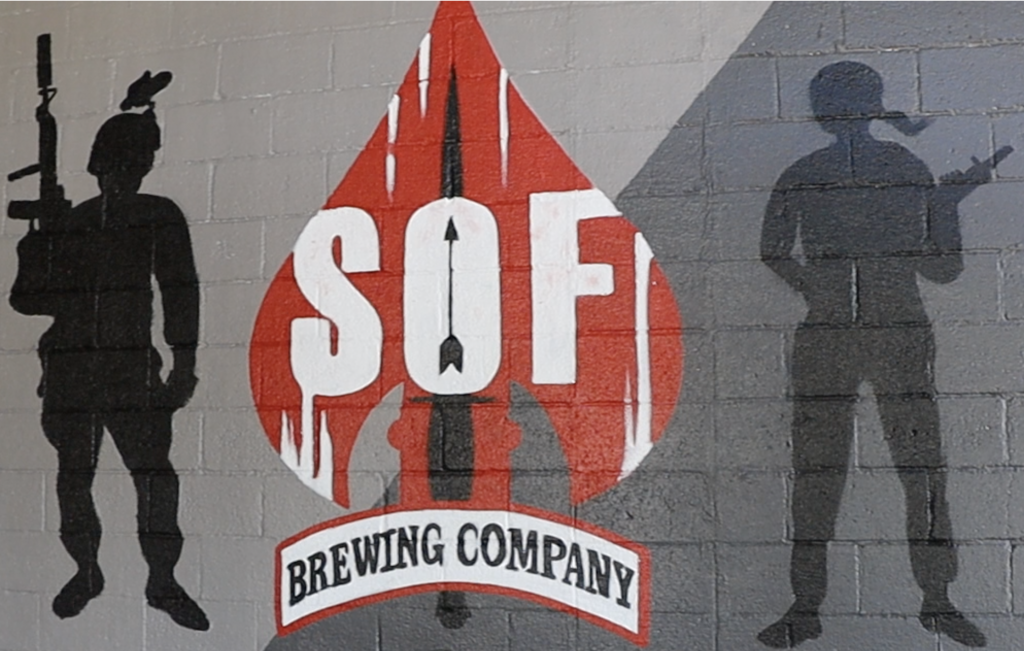 Kris likens the SOF Brewing Team to the cohesive unit the group worked within the military. "The thing we've figured out in all that we've done, a Special Forces Team is made up of twelve people that are the best at what they do," Kris says.  "What you find out working with the team is that you have an expert. If something comes up, you find the expert. Hence, Larry. We're not the experts, so we hired Larry. He is. I know that if I find the right guys and I surround myself with the right people, with talented people, then we can do anything. You don't need a lot of people; you need the right people. That's all it is. You can make huge strides by moving small, talented groups of people to do something."
Kris knows that SOF Brewing's path to opening was a bit unusual. "We did it backwards – usually when you go in and tell people you want to start a brewery, you're a brewer who already knows how to make beer." That was not the case with the crew behind SOF Brewing, yet their motivation drove them forward. "We knew nothing about making beer, we just knew we liked beer. We made it and gave it away and asked everyone else if they liked the beer. When everyone else was saying that they liked the beer, we thought, 'we should do something with this.' We're more educated about beer now than when we started, it's craft beer for us, and we love the art of it, but for us, we also love the people we get to hang out with while we're drinking beer. It's that for us."
 Click over to our Beer Finder to see where SOF Brewing's beer is available near you.