Two miles from the Atlantic Ocean in Delray Beach lies Saltwater Brewery, a beer-filled oasis in the midst of the frenzy of South Florida life around it.  This craft brewery has grown from a dream shared by two homebrewers to a bustling hub of activity, distributing beer to all corners of the Sunshine State.  Recently, we enjoyed a pint of Screamin' Reels IPA with the fine folks at Saltwater Brewery and talked about their roots, their current brewing situation, and the horizon ahead for this marine-themed brewery.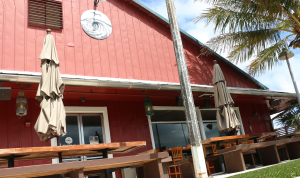 The Start of a Heady History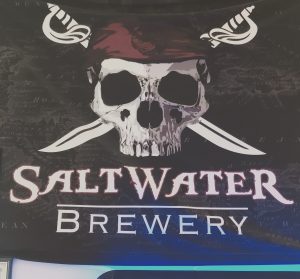 Saltwater Brewery's origin story begins with a few starry-eyed homebrewers and a dream.  Before becoming professionals in the beer industry, Dustin Jeffers, Peter Agardy, and Chris Gove, along with their original brewmaster were all homebrewing in Peter's art studio in Boca Raton circa 2011-2012.  Dustin was teaching Peter to homebrew, and the group was excited at the prospect of making beer.  "Our best beer was a hefeweizen and another one we called Royal Kush – a really dank double IPA," remembers Peter.  "We had the Gove family over to the studio and were trying a few of our beers, and they had a vision for a building they owned. The family was looking for a new tenant and they had thrown around the idea of a brewery for a long time." With a lot of help from the Gove family and some other investments, the group moved forward to create the Saltwater brand, to start cleaning the building out, and to build the group's first all-grain system in the building.
Coming up with a uniting theme to join the brewery with the local community came naturally to the group.  "What led us to 'Saltwater' was our shared passion growing up here in Florida – being so close to the water," Peter says and the group agrees.  "On my side, my family is a big fishing family, and my brother is still a charter captain.  On Chris's side, he had grown up here surfing and he had been out in California and his whole flavor was that surf vibe. We adapted Saltwater to appeal to everyone on the coast and to give back."
The group felt that their shared love of the ocean along with the opportunity to make a difference in conserving it was the spark that could light the brewery's future.  "We adapted the brand to something we could use to give back to the ocean," Peter posits.  "Our concept was why we were making beer; we loved beer and brewing, and yes, we could make a business selling beer, but there has got to be more to it for us.  If we're embracing the Saltwater brand, then we have to embrace what that means: to conserve [the ocean] and to try to let this business be a vehicle to work with charities and work with oceanographic institutes, and which has brought us a long way."  It was the search for a way to give back that seemed like a natural fit for Saltwater Brewery.  "We have so much philanthropy in our business plan, we can do what we love and brew beer at the same time," Peter muses.
 The Right Home for the Brewery
As the brewery began to take shape, the building that houses Saltwater Brewery became part of the brewer's story.  In a past life, the building has housed a "feed store, a tent store, a uniform store, and a farming supply store, plus one of the only outlets for Levi's Jeans in the area," recalls Saltwater Co-Founder and Director of Branding Peter Agardy.  "The building was built in 1952.  It is hard Florida Pine, it's a sappy pine, the densest part of a Florida pine.  It has survived many hurricanes. This used to be No Man's Land out here, right now we're off of I-95, but this was hunting and fishing grounds, you'd pass the building to get to where you would hunt.  This building was 'out there' for Delray Beach even though we're two miles to the ocean."  That history, though rich and full, made cleaning up the building to build a brewery somewhat challenging, Peter says. "The cleaning work before building the brewery was ridiculous.  There was a lot of history in this building with the history of Delray."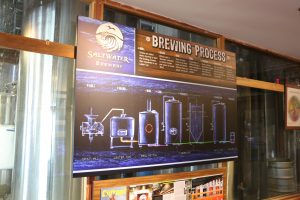 Making the building into a brewery required a few tweaks for housing tanks and related equipment.  "The biggest trick here was all the open areas above were one solid floor, so we had to re-engineer the structural integrity for the building to have high enough tanks and get permitted to reslope the floors," says Peter. Once construction was underway, "it was a year and a half [from construction start] before we opened. A year later, our internal expansion was canning line; we had to rearrange for that.  More recently, we upgraded to our centrifuge, instead of using a filter.  It helps our pipeline get beer out, it saves an extra day per batch in the whole facility.
A New Brewer
While Gove, Agardy, and Jeffers began the brewery, they have come a long way in a short time, including the relatively recent hire of head brewer Justin Rick, fresh off of a stint with the Brooklyn Brewery as a senior brewer.  Justin came onboard in October of 2016 after a chance encounter while Justin was on his honeymoon in Delray Beach.
"Before I worked at Saltwater," recalls Justin, "I was the senior brewer at the Brooklyn Brewery.  My wife's parents have a retirement home down in Delray Beach, and they told us we could use the house for our honeymoon.  During that time, we drove around Delray.  My buddy sent me a text to check out Saltwater Brewery because he was friends with Chris Gove.  We didn't get to visit while we were on our honeymoon, so I asked my friend if the beers were good, and he told me they were.  So I sent Chris an email and told him that my wife and I were looking to move and we loved Delray and is there a chance I could have a job?  He told me that they weren't really hiring, but to send my resume anyway.  The next day he called me and asked me when I could start."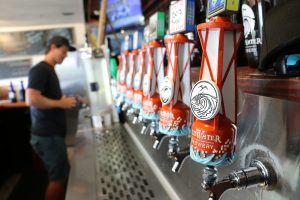 In addition to four and a half years at the Brooklyn Brewery, Justin's experience included three years at Leinenkugel Brewing and managing the Quality Assurance Lab at San Diego's Stone Brewing. He graduated from the University of California Davis Master Brewers Program and is now wearing more hats than ever as he helps guide the beers of Saltwater Brewery as the head brewer and head of quality assurance as well.
Justin is humble and says that his biggest problem is keeping the brewery's production on schedule. "Mainly we're focused on meeting orders because we have so many coming in right now."
Saltwater Brewery's Core Lineup
Saltwater Brewery's lineup has three core beers, with the lineup being anchored by Screamin' Reels IPA, a dry-hopped IPA that with tropical fruit flavors from two different hop varietals.  The next mainstay of the Saltwater Brewery lineup is Sea Cow Milk Stout, named for the Florida manatee, with a sweetness that benefits from the addition of lactose in the boil.  Rounding out the lineup is LocAle Golden Ale, a light-bodied and approachable ale which sees limited distribution.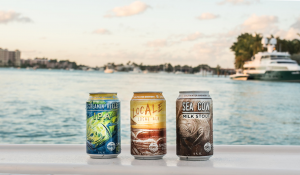 "Biggest challenge right now is with Screamin' Reels – a dry-hopped beer," Justin says.  The timing of harvesting yeast is a challenge since one tank has to finish at the right time to harvest for the next batch of IPA.  "Since the majority of the tanks are IPA," Justin says, "the hardest part is making sure we have the yeast to keep Screamin' Reels going."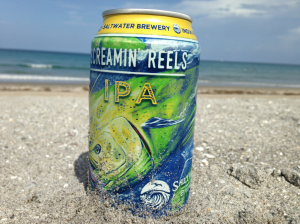 New and Creative Beers
Justin says that he enjoys all of the beers he makes for Saltwater, and he is excited about the future, including the prospect of working with some different styles of beer.  "I would love to make a pilsner and more lagers.  I'm the head brewer, and I can write a lot of recipes and play around and have fun with anything," Justin says.  He can satisfy his creativity making small batches of unique beer for Saltwater Brewery's tasting room and can make treatments of existing beers, which also helps to satisfy Justin and his staff's creativity.
Helping Justin is Saltwater Brewery's treatment master, Morgan Pierce.  "I call Morgan the flavor master," Justin says.  "Morgan and I will come up with what we need to brew and treat beer together, then he will actually do the treatments because that's his background.  Anything in the tasting room that is not a core or a guest tap, Morgan made. The most popular beer he's made is a peanut butter cookie beer and a pineapple upside down cake beer.  Morgan still says that he still drinks a lot of Screamin' Reels IPA.
That pineapple upside down cake beer?  Its release coincided with the release of Netflix's Stranger Things Season Two, so Saltwater's patrons could "taste the upside down" with a beer that tied into the show.
Morgan says that in previous brewing work, he would go to Fresh Market and stand at the dessert case and decide which of sweet sensations he could make into something.  "We used to joke that we'd have to come up with a pastrami sandwich beer," Morgan quips.
"My chocolate-covered pretzel beer is a little savory," Justin posits back.  "We could make that."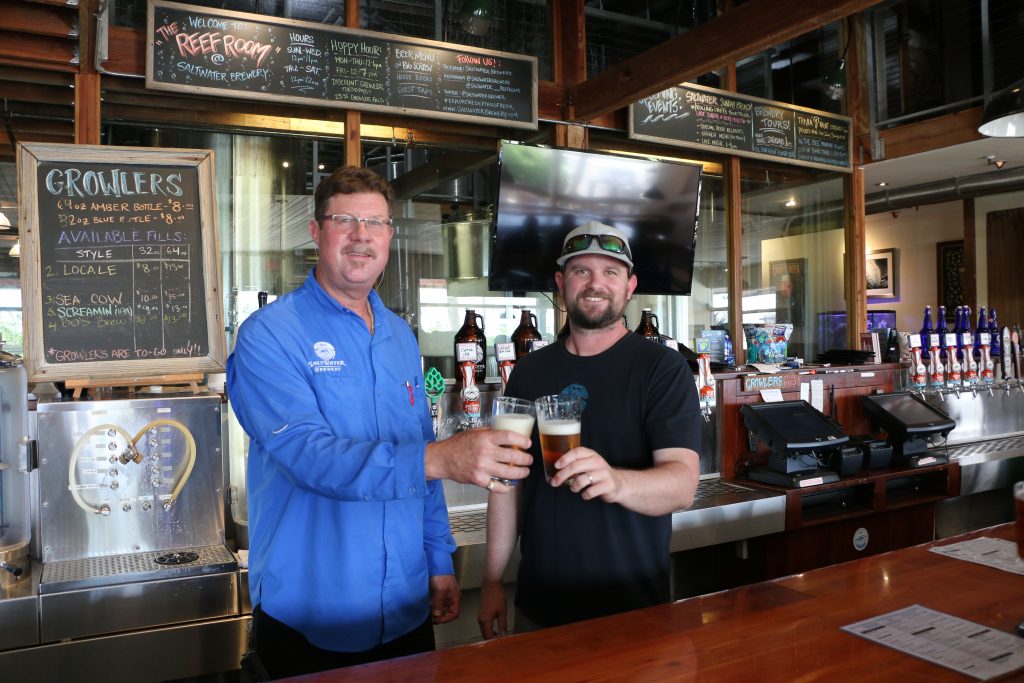 Saltwater Brewery's expansion, future, and beyond
Statewide distribution has helped fuel Saltwater Brewery's expansion and added equipment to help the brewery add efficiencies to their processes.  Saltwater Sales Director Scott Thompson talks with excitement about the use of this new equipment. "I think the key to the short-term future is going to be the centrifuge, it saves these guys so much time," he says.
"And we get an increased yield," Justin adds. "Normally when we filter, we lose about 200 gallons.  The last Sea Cow batch we lost 60 gallons."  Justin continues about the new centrifuge: "they pay for themselves in no time because of the time and the yield and the quality, too.  Screamin' Reels has been tasting so much better since we got the centrifuge because it will keep the essential oils in solution, so all of the dry-hopping stays there, whereas filtering the beer was stripping some of that.  It's more aromatic now than when we were filtering the beer."
For Saltwater, more beer can mean more attention for brewery and for conservation
As Saltwater Brewery continues to grow, the focus will remain on conservation and on quality products, including canning beers and eco-friendly six-pack rings.
Like most brewers who have been given the choice, Justin says that he prefers cans as a vessel for packaged beer.  "Cans are economically and cans are so much better for breweries.  When you look at it, they let in less oxygen, they let in no sunlight and they are lighter so they're cheaper to ship in and out of here.  Plus, in relation to the ocean, they're easier to recycle."
Saltwater Brewery has also gained a mountain of press coverage for their eco-friendly six-pack rings.  "Can toppers should be out soon," says Peter.  "They are made out of spent grains and a biopolymer that binds it together, so it starts breaking down after 40 days.  They'll be fine in a cooler, but completely underwater for an extended period of time and they will begin to break down."  Are these rings the same as standard six-pack rings?  "The folks in the back shook them up and down 60 times to simulate how many times they can possibly be handled before getting to the consumer," Scott says.  "And no cans came out of their holders."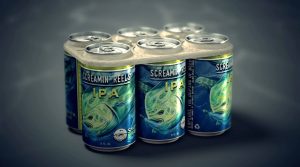 Saltwater Brewery's current distribution footprint includes the entire Sunshine State.  "It… is huge for us.  This is a small facility to cover the whole state," says Scott.  But the original brewery staff oversees all production.  "All the beer is still made in-house and no contract brewing, just expanding in-house operations.  The plan is possibly a new facility in the 3-5 year plan, possibly in a bigger city," Scott says.  "We may have to go farther out (from Delray) for this new place.  We have not been through a season yet with more than three territories."
The upside to the increased demand?  "We will definitely have fresh beer on shelves," Peter says with confidence.  "We've had three brewers – our first brewer got us off the ground and got us going, then (Head of Operations Dustin Jeffers) took over and tweaked a few things, and rebirthed our beers. Dustin was a scholar and he learned from the original brewer.  He kept going to Craft Brewers Conference and as a brewer, he learned so much just going and learning from these great brewers. Then a year and a half ago, we brought in Justin.  He's young, but he's a veteran of the brewing industry already.  That was the next level that really allowed us to distribute the way we are with quality focus and yeast management.  It has been pretty streamlined since Justin came on board.  He's wearing a lot more hats than any job he's been in."
Agardy adds that it is not only Justin, but the team Saltwater has assembled that will ensure the business's continued success: "We have a great staff, and we will be celebrating four years on December 16th.