As the cycle of Florida summer continues, there are three daily certainties: sun, rain, and thirst.  The sun and the rain are beyond control, but thirst, well thirst has met its match.  One day is reserved each summer, during the first week of August to refresh and delight the world with beers of all manner of hoppiness.  It's the hoppiest day of the year – a day when Humulus Lupulus brings all of his leafy glory to a nearby pint glass, gifting the world with the aroma and the taste of hoppiness.  This day celebrates the most popular style in craft beer – the India Pale Ale.  IPA Day will take place on August 3rd, 2017 – the day of the year picked out to celebrate the brewing innovation that hops brought to beer.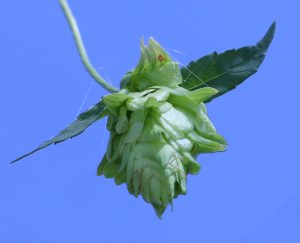 What is a hop? 
Hops are the flowers of the humulus lupulus plant.  Hops are grown all over the world, mostly in areas with long days of daylight like, in the U.S., the Yakima Valley area of Washington and the Willamette Valley in Oregon.  While many farmers are working on growing hops in Florida, the idea is still relatively young and IPAs take so many hops that few breweries have made commercial beers with Florida hops.
How are hops used?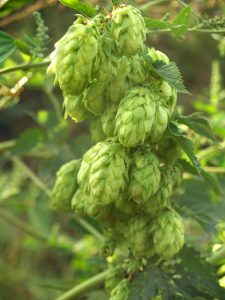 Hops were discovered around 700 AD and slowly became used for their utility in brewing beer.  In those "old days," hop bitterness was used to counter the sweetness of malted barley.  Hops also have an antimicrobial effect on beer, acting as a preservative and as a way of keeping spoilage organisms out of beer for a time.  Hops became increasingly popular in brewing and by the year 1500 AD they were commonly used in brewing most styles of beer.
In modern times, Hops are harvested once each year and then dried and packaged for use continuously until the next hop harvest.  Hops are usually processed and pelletized for use and the vast majority of brewers use these pelletized hops to impart hop aroma and hop flavor into their beer.  When smelling a beer, the two largest contributors to aroma are the malt and the hops in a beer.  When tasting a beer, hops can play a starring role, a supporting role, or even a bit part in the flavor depending on how many hops the brewer adds and at what time in the brewing process.
What does it mean if a beer is 'hoppy'?
A "hoppy beer" is one where the aroma and the flavor favor the hop, as opposed to favoring malt or something added to the beer like chocolate, wheat, or another flavor.  Hoppy beer can have flavors derived from any variety of hops, and hops can have a myriad of different flavors to impart on beer.  Hops commonly used in 2017 have flavors ranging from citrus fruits like lemons, oranges, tangerines, or grapefruits, to tropical fruit like guava or passionfruit, to strange and colorful flavors like pine sap, resin, or even flavors described as "catty."  The amount of hop flavor imparted on a beer is controlled by the brewer and when he or she adds the hops to boiling beer.  For a hoppy beer, expect to find hop flavors in the aroma and in the flavor profile of the beer, usually extending into the finish or aftertaste of the beer.
Where can I start trying hoppy beer?

IPA is the best-selling style of craft beer in the United States and most brewers have a .  There are many styles and sub-styles of IPA, depending on your individual preference, but this style is accessible from many doors.  For instance, check out the following IPAs to test the hoppy waters.
New to the world of IPA? Try a Session IPA like Abita Brewing's Big Easy IPA – Here's a beer that is brewed in Louisiana and meant to bring the spirit of the Big Easy across the United States.  Big Easy is a session IPA, a beer with big hop flavor in a relatively small beer – finishing at 4.5% ABV while carrying the flavor of lemon peel and four different hops throughout.  Like Abita says, "Easy to drink and just right for long hot days, steamy nights, parades or a day on the river with friends."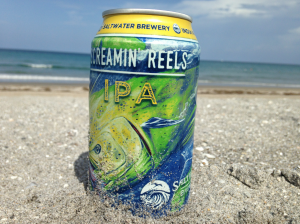 Want to try a hoppier IPA? Try an IPA like Saltwater Brewing's Screamin' Reels IPA – Stepping up to an IPA from a session IPA, there is a marked increase in body, hop flavor, and alcohol presence.  Delray Beach, Florida's Saltwater Brewery's Screamin' Reels IPA carries the flavor of light caramel followed by earthy tangerine in waves of hops.  An IPA for those interested in nuances of the hop, Screamin' Reels IPA washes in with a wave of hops
Ok, I think hoppy beer if for me! Where do I go from here?

From the hoppy starter beers, there are many avenues to explore how far the humulus hopper can take a beer.  If your palate is warming up to (or in love with) beers with more hoppiness, try a few of these on for size.
Try an imperial IPA (also called a double IPA) like Dogfish Head Brewery's 90 Minute IPA – Introduced in 2001, Dogfish Head Brewery of Milton, Delaware places their 90 Minute IPA in one of the top spots in the category in terms of hop flavor and aroma.  The beer's name comes from the fact that the beer is hopped continuously for 90 minutes, Picked by Food & Wine Magazine as one of "The 25 Most Important American Craft Beers Ever Brewed," 90 Minute IPA does not disappoint.  90 Minute IPA has a good deal of malt character behind the beer, which gives the beer a caramel flavor to reinforce the monstrous amount of hops used.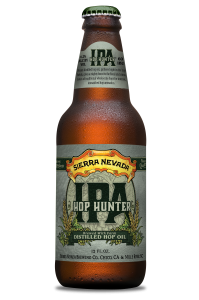 Try another IPA with a different spin like Sierra Nevada Brewing's Hop Hunter IPA – One of Sierra Nevada Brewing Company's year-round IPAs, this beer utilizes farm-distilled hop oils alongside the brewery's traditional whole cone hops for a uniquely potent hoppy beer.  Hop Hunter IPA is the standard burger beer dialed up to 11.  To get the most out of this beer, try it with a blue cheese and roasted red pepper hamburger or with a Stilton cheese to illuminate the distinct flavor of this beer.  For more information on farm-distilled hop oils, click here.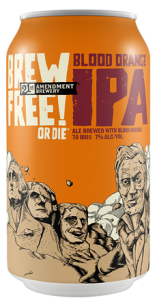 Finally, try a different take on IPA by adding some fruit like 21st Amendment Brewery's Blood Orange Brew Free! Or Die IPA: San Leandro, California's 21st Amendment Brewery knows a few things about the West Coast style of IPA, being founded on the San Francisco Bay.  Recently, the brewery has used the addition of blood orange puree to make the blood orange version of their IPA a horse of a different color.  While the hoppy character of Brew Free! Or Die is the building block of the beer, the sweet citrus of these sanguine fruits adds a few layers to the hop flavor parfait.