Halpatter Brewing of Lake City, Florida has inked a deal for distribution with Cone Distributing.
Cone Distributing (Team Cone) is proud to announce a partnership with Halpatter Brewing of Lake City, Florida.  Halpatter Brewing (Halpatter) is best known for their locally-inspired beers and their wonderful facility located in the heart of Lake City. Halpatter's ownership is excited to take the next step in the life of their young brewery and become a distributing brewery.
"We at Team Cone are looking forward to partnering with a brewery that is so active locally and so excited about making great beer and having an impact in the community," says Charlie Ingrilli, Vice President of Sales for Cone Distributing.
Halpatter Brewing echoes Team Cone's excitement and says that Team Cone was their first choice for distributing their beer. "Team Cone is just like us," says Halpatter co-owner and managing partner Chris Candler. "Team Cone just aligns with our philosophy – the company is unlike anyone else.  When we talked to them, they were all about growing our brand and developing a brand presence, which is what we've always been about."
Halpatter will begin distributing their beer locally in the Lake City area and with time, the craft brewery will be available further into Team Cone's 22-county distribution footprint.
Team Cone will be bringing in and selling Halpatter's core beers, with a focus on selling O"leno Cream Ale and Old School Session IPA first, with other releases to follow.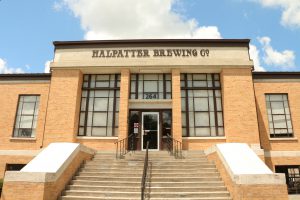 About Halpatter Brewing Company
Halpatter Brewing was founded by a trio of brewers, beer afficionados, and friends pursuing their passion of brewing great beer and positively impacting their neighbors and visitors alike.
The mission of the Halpatter Brewing Company is to craft and serve the highest quality beers in an environment that seeks to positively impact our patrons and community.

About Cone Distributing
Founded by Douglas P. Cone, Jr. in 1985, Cone Distributing (Team Cone) began business with selling five brands of beer in four rural counties. Less than two years later, the company began expanding territory and suppliers and has not stopped since, building the largest geographic footprint in the state for a Florida beer distributor. Today Team Cone sells beer from over 40 suppliers in 22 Florida counties from a state-of-the-art facility in Ocala and a facility in Tallahassee. Cone Distributing's goal is to operate a World Class company, distinguishing itself by doing the Right Thing the Right Way All the Time.