When Food & Wine Magazine put together a list of 25 Essential Belgian Beers, they were thinking more about the diverse array of beers offered in this small, thirsty country. This nation of just 11 million people (as a comparison, the state of Florida estimates 20 million people) is nestled between France, the Netherlands, and Germany and blends the cultures, flavors, and traditions of all three of their neighbors with flair and panache all their own. A people with such a rich cultural heritage express themselves in liquid form with the beers that are produced from different regions of their country.

Oude Gueuze Boon's Black Label – Brouwerij Boon, located in Lembeek, which is south of Brussels specializes in making Belgian-style fruit beers, called lambics. From the Belgian tradition of gueuze (a blend of 1 year-old and 2-3 year-old lambics), comes the most approachable beer in this style, Boon Gueuze's Black Label. The beer packs a tart and acidic punch that hits the side of the tongue as much as the rest of it. Blended to be on the drier side of lambic, Boon Gueuze holds its place as one of the most approachable gueuzes and one of the most available.
---

Rodenbach Alexander – Brouwerij Rodenbach of Roselare, Belgium (toward the French side of the country) specializes in beers that the brewery calls "sweet and sour." Their calling card is the Rodenbach Classic, a light and sour beer that beer authority Michael Jackson called "the most refreshing beer in the world." Alexander is a recipe first brewed in the late 1990s that combined Rodenbach (a beer that has a strong cherry flavor) with sour cherries, and matured the beer in oak foeders. The result is a beer that evolves into the best of both worlds: a beer with strong cherry tones and cherries that impart their essence on an already world-class beer.
---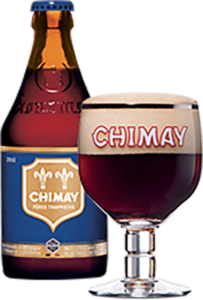 Chimay Grande Reserva – The Trappist beers of Scourmont Abbey (all of the beers brewed under the Chimay label) are an American's usual introduction to Trappist beers. Chimay's beers run the gamut of the monastic brewing tradition, and the lineup culminates with Grande Reserva, a beer that would be reserved for distinguished guests of the abbey. This beer rests at about 9% alcohol by volume, and is one of the strongest offerings that Chimay sells. Grande Reserva is a beer that can be saved for a special occasion, or the special occasion can be savored when the beer is opened.
These three beers reflect the heritage and style that helped bring Belgian beer the distinction of World Heritage from the United Nations in late 2016. From Belgium to Florida, and many points in between, other brewers often imitate and flatter these Belgian masters by brewing beers like theirs, but something magical happens at the map dot where these beers are made. Team Cone is proud to be a part of bringing you the beers that make Belgium proud and make Belgian beer unique.